As we enter the penultimate report of Garage Awesome's coverage of the Modified Live event, we shift our attentions away from the track, and head into the surrounding paddock area to check out the best of the cars on display within the public car park, the club stand area and the Kleers Show and Shine Arena.
Cadwell is lucky to be able to not only put on some fantastic track action, with plenty of viewing, but also have a large paddock and surrounding grounds to accommodate events such as Modified Live that combine a busy paddock area with a well presented area for clubs and individuals to show off some of the best modified cars around in the UK at the moment.
Firstly we take a look at what was going off over on the club stands. Clubs notoriously put a lot of effort into these events and this one was no exception, with a very high quality of cars on display, combined with lots of flags and banners all proudly displaying their club's name. There was a great stand from the guys at the Z Club (who you might remember got a mention in our Thoresby Jap Show report), Max'd Car Club had a nice variety of cars on display, but it was local club UK Modified Ridez that really caught our attention. Lofty and his team, who are based in nearby Lincoln, used the home advantage to great success; bringing a high number of quality modified cars together in a well laid-out stand, top work guys and gals at www.ukmodifiedrides.co.uk
Other areas that we spotted were a nice display of the new Ford Focus RS's in the spectrum of White, Blue and Lime green colours they have become synonymous with, some interesting trade stand demo cars, some rather posh service vehicles and support trucks for the track action, including a Martini liveried Ford Transit van, and finally a Hydraulic suspension, smoke machine fitted, T.V. and sub installed, Peugeot 206 that was there on behalf of Lincoln's Road Safety Partnership, who were on hand offering advice, demos and re-enactment of an accident situation using the car.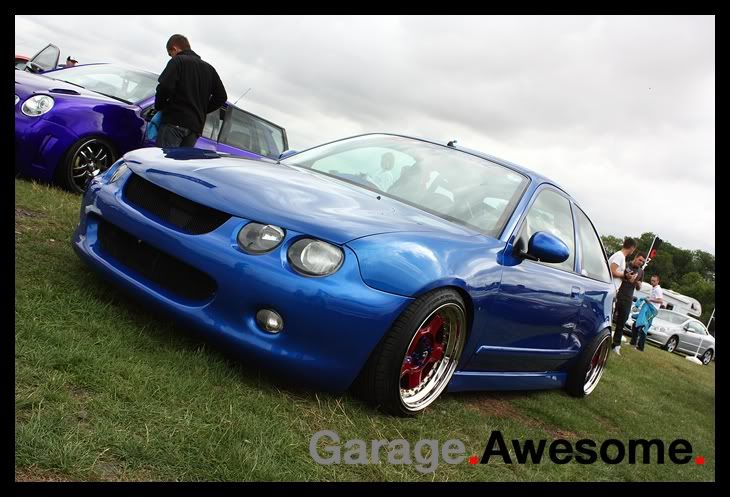 As we headed over to the show and shine area, which we could clearly see thanks to the red Kleers marquee and matching, sexy, Nissan GTR that they had brought along to show. Now, although Garage Awesome tends to steer clear of blatant advertising, I think Kleers is worth a mention as they're a fairly new company when it comes to the world of car care and detailing, but have put their name to and supported the Modified Live events all year with great success. It's refreshing to see a UK based company being so supportive of the scene we all enjoy, so if you want to find out more either pop along to the next Modified Live event or visit www.kleers.com
Once in the arena, you could instantly tell the standard of the cars was high, with the owner's frantically cleaning and polishing away before judging commenced. The show and shine was run with the cars divided into different categories; UK Here and Now, UK Future, Dub/Euro, Classic, OEM and the coveted Car of the Show award.
As we take a look round we notice Matt Slinn's Ford Fiesta, that Garage Awesome did a feature on only a few weeks back. At the end of the day, just before the crowds headed back to the track to watch the Time Attack and EDC come to a head, the guys at Kleers presented the trophies to the winners, along with some assistance from Laura, the glamorous, new Modified Live pit girl. Winners included; Nick's Honda Civic Coupe, Jamie's super-low MG ZR, Clare's mental Escort Cabriolet, James' wide-arched, Bentley rimmed, install-filled Ford Fiesta, which would have took the top prize in our eyes but, judged to be the Best in Show was the fully loaded Toyota Supra of Rob Sarson. Well done guys!
The judges must have had their work cut out in some of the categories, especially in the euro area, with Jamie's MG beating off stiff competition. In all honesty anyone could have taken it, with Matt's Fiesta, Dan's Punto, Sarah's Porsche rimmed VW Polo and a couple of smart Citroens in the form of Ellis' C2 and Dale's Saxo all perfectly presented and each with a great chance of winning the prize, not a decision we would have liked to make!
All this made us wonder, judging… how hard can it be? So, maybe we'll put this to the test and introduce a Garage Awesome Car of the Show award, only time will tell!
Check out our gallery below for some of the best of the best cars and the winners, and be sure to keep it Garage Awesome for the next and final Modified Live event of the year, as the show rolls into Norfolk circuit, Snetterton on the 10th October, see you there!
Pic Credits – Ollie Novell