As if the first report didn't cover enough action for a car show, we are only half way through our report as USC has way more still left to write about as we head back to the track for the ever popular European Sports Compact drag series.
For those unaware of the ESC, take note, as over the next few years it's going through some changes as the popularity increases further, aiming towards 2012 where the series will be gaining full MSA approval and status.
A quick introduction to the rules I suppose would be an obvious place to start, with the main focus being on the car and engine being European. That's a European body and engine, so no Japanese motors, or American v8's. Popular cars currently in the series are the mk2/4 VW Golfs, Vauxhall Novas and Corsas and the mighty but fragile Renault 5 Turbo. With engine restrictions in place it sees the tuners gain maximum power and speed out of standard off the shelf engines, the VAG 20VT is popular as is the Vauxhall C20LET, most opting for turbo power, although some of the more interesting cars are running big carbs or throttle bodies!
Drivetrains can be altered, but again within a set of rules; FWD to 4WD is fine, but no FWD to RWD conversions, cars needn't be MOT'd or taxed, although a walk round the paddock sees that some are still road-legal, the organisers do encourage "streetable" features to remain however, including headlights, wipers and heaters etc. Front wheel drive cars get the option of full drag slicks, whereas the rear and 4 wheel drive machines run on treaded tyres.
USC saw the action running all weekend, with the competitors joining the queuing RWYB drivers for test runs, and then dedicated breaks for qualifying and the heats.
With all the cars running really well and no recorded breakages, it was the 1.8 20VT 4WD Mk1 golf of Andy Waite that came out on top in the final, running a low 10 second pass, despite running a 9 earlier on in the day. The runner up was another VW, this time the MK2 Golf of James Hodson, who again was down in the low 10s. The Rocket Car Repairs backed Scirocco of Paul Jordan was also down in the 9s but lost out in the later stages. The little Vauxhalls held their own with the JS Racing mk2 Astra and Tigra of Jay Johnston and Sam Bolton respectively, both down into the 11's.
With the field expected to grow, ready for the 2011 season, if you're new to drag racing or have a car capable of low 13's/mid 12's, it might well be worth checking up on the rules and regs and you could be involved next year!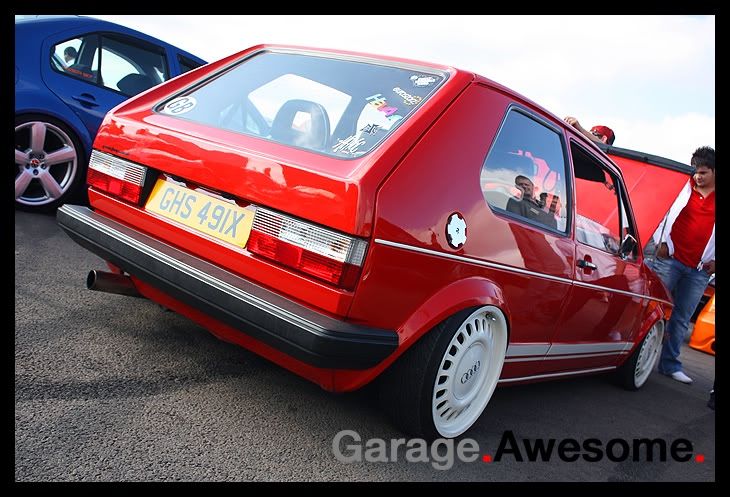 Away from the track, Sunday at USC is dominated by one thing; the Auto Glym Show and Shine Competition, with the area full up by 9 o'clock, the smell of polish and wax was lingering as some of the UK's number one show cars, who combined would have a trophy cabinet Manchester United or Chelsea (and definitely Nottingham Forest) would be envious of, lined up.
Some of the cars that enter these events are just stunning, however a few cars that really weren't up to the task did take up space I feel, but maybe that's something the organisers will look at in future years?
Looking round we spot cars we have seen over the course of this season on numerous occasions, and some that we haven't, giving it a really nice balance.
So who won what? I hear you cry. Well, with 10 Show and Shine categories up for grabs, plenty of cars drove away with some silverware. The first category to be announced, although not included in the main 10, was Show and Go, with judges awarding points for how clean and how modified it your car was… but also how quick it went down the track, something I love to see. Deserving winner was Rich Booth, and his lime green Honda Civic.
Back to the static prizes; Best Retro went to the flawless MK1 Golf of Geoff Skinner, and for what difference it makes, also takes Garage Awesome's hypothetical Car of the Show. Last weekend's Best of Show winner at Cadwell Park, Rob Sarson, took the same award again at USC in his Toyota Supra. The familiar 206CC of Tony Scullion picked up the Best Interior trophy, new on the scene Paul Whitlam and his Vauxhall Astra Coupe went away with Best Exterior and Andy Tucker's Nissan Skyline won best Race Car.
Regular trophy winner Liam "Elmo" Elmore took home the Best Wheels prize for his spanking wire rims, and another winner from last weekend, Clare Scott picked up her second USC Most Radical trophy with the Reiger Escort Cabriolet. Ian "Iceman" Pinder's Astra van is becoming popular at all shows, and was no surprise that he picked up best ice and Mark Lampard's Max Power cover featured, Honda S2000 took the judges choice award. Finally, Best Engine Bay was deservedly won by a white Vauxhall Corsa, whose owner Nick Bowers had paid lots of attention to the bay with the addition of gold and body coloured touches and camo Samco hoses.
The final section for us to report on is the Drift Taxi's. If you have read this blog, you will be aware we love drifting, and with very limited space available, the guys from Drift Rides set up a small, but technical course to demonstrate their skills and for only a tenner, you could go out and do some laps as a passenger in the various Skylines, Silvias, 200SX's, Soarers and Mazda RX7's, something you don't get an opportunity to do very often.
As mentioned, the space available to them was very limited, so if you wanted to see how these guys do it on the whole tarmac area then maybe a Drift What You Brung day is the thing for you, where you can bring your own RWD car and give it a go, or just spectate for the price of a Big Mac meal!
So, that's USC wrapped up for 2010, some are already on the countdown to 2011 and we, I'm sure, will be there to cover it for you again. Just a few issues for Santa Pod to sort out and it will re-confirm its place as the number one UK show for you to get involved in
Pic Credits – Ollie Novell