Stance; a term that seems to have been banded around the modified car scene over here in the UK for the last 6 months or so, with magazines and websites using the word to describe almost anything that's slightly modified! The true definition of Stance within the modified car world runs a lot deeper and to find out how it's growing in the UK we headed to that well known Mecca for stance… err Milton Keynes!
The reason for our trip to Milton Keynes was to check out the first ever meet of UK stanced cars organised through the hugely popular and scene-leading US based site; StanceWorks. On their forums you will find pages of amazing projects, fantastic photography of some epic cars from all over the world and more importantly a wealth of expert knowledge, advice, hints and tips to get your car looking just right!
I suppose we should start with working out exactly what 'Stance' is. The basic dictionary description is simply 'position and posture' which pretty much explains what it's all about really, the idea of getting your car to sit perfectly in relation to the tarmac below it, and the wheels that touch it.
I could, of course, go on about the variations of Stance, be it poke, tuck, stretch, air or static, which alone sounds like a review from the back of a 'Gentleman's DVD' but I could be here all day, and just be going over information easily available to you by hitting the StanceWorks website, and of course, you want to see just how we do it over here in the UK, so just how do the UK represent…
The first thing we notice is if you're in the UK and want to try stancing a car, then the rep's favourite the BMW 3 series should be high up your list, with examples of all shapes and sizes and indeed, years! E30s, E36s and E46s, coupes, 4 door saloons, touring estates, static drops and even one on air made up a large proportion of the 50-60 cars that attended the meet and all impressed us with their varying styles and fitments.
Now, VW owners will be saying that they have had stance for years, and that it's nothing new, and to be honest it always seems to look right on a VW, it's a style that just seems to suit the Germans down to a T! Again, as we saw with the BMW's the full range was covered from a retro & 'old skool' line up of Beetles, more than a few mk2 Golfs and Jettas through to the very latest Golfs, Boras and Passats!
Away from the German brigade the 'Low is a Lifestyle' banner was also upheld by some amazing cars from the Land of the Rising Sun, our UK blogging friends; LowlifeUK brought along Ben's super-smart Bugeye Impreza and a drop-top RX7, there was a sweet EG Civic hatch and a couple of stunning 200SXs added into the mix, not to mention our very own Garage Awesome Staffer; Chris' Bugeye Impreza.
Other European manufacturers were also represented with previous Garage Awesome feature car Matt's Ford Fiesta, a few tidy Vauxhalls including an Astra van and probably, most importantly, a car I first spotted in the Modified Nationals 'Top 25' area last year; Daniel Allards' air equipped Vauxhall Corsa D, already showing that an emphasis on Stance can break through into mainstream UK modifying with huge success, certainly a key car in the UK stance movement.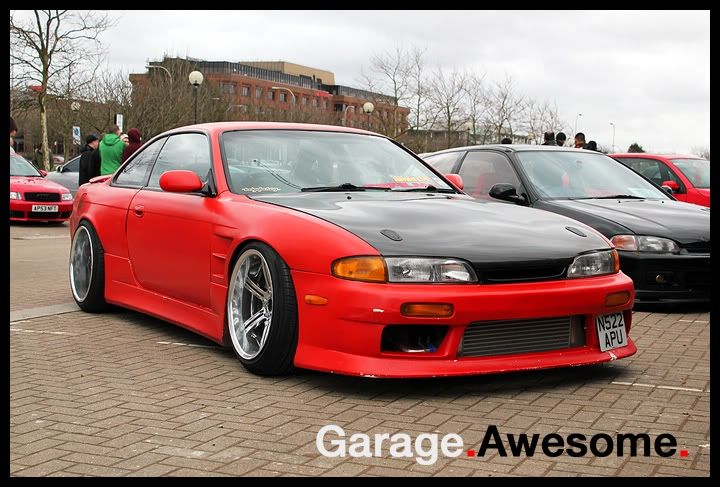 For those not fortunate to be running air and instead plumping for the static drops, which for me seems that little bit more impressive, the location of the meet was key, with a couple of the cars that had made the trip today having already been damaged and fixed only a few days ago, and in one case, late last night, speed humps, sleeping policemen, ramps, drops and ledges were all out, and with StanceWorks being US based and acquiring fans for the style from all over the UK, a central location had to be found and Milton Keynes' National Hockey Stadium fitted the bill just nicely ticking all the boxes on low-car-friendly checklist!
It has to be said, that events like this can't run without people putting the effort in to make it happen, the backing and forum structure of StanceWorks has to be praised and the members who initially got the idea rolling for this mega meet also need a shoutout so Laz and Jorge, who got the main idea together and going, big pat on the back, as well as everyone who turned up, no sign of silliness or wrongdoings that would draw negative attention to the meet, this one was definitely all about standing still!
It certainly appears to us that the 'Stance' phenomenon is set to grow over here in the UK, with a fantastic turnout of high quality cars today showing that the foundations are laid for the UK to become one of the leading players in producing perfect cars and the news we announced only a few months ago that fellow leading stance-based site; Hellaflush, are bringing a show over here later on in the year based on exactly that!
Pic Credits – Rich Cooper/Chris Hill
624.0