Over the past few weeks we have become a bit motorsport heavy, understandably so due to the fact the teams are testing ahead of the imminent start of the new season, but, it's not just the motorsport calendar that's about to kick off as we checked out what's billed to many modifiers as 'the first show of the year'.
Our destination was Telford International Centre for 'Ultimate Dubs', a name that's just snowballing in the VW scene into one of the most anticipated events on the calendar with many projects that have spent the winter in garages and sheds getting their final big unveil and traders launching new products and demo cars.
There is only one place to start really and that is with the quality of cars on show, I very much doubt that any shows in 2011 will be able to match the standard of cars on display here, the flawless finishes, rare and perfectly fitting wheels, fresh paintwork and sumptuous interiors all wowing the Garage Awesome team.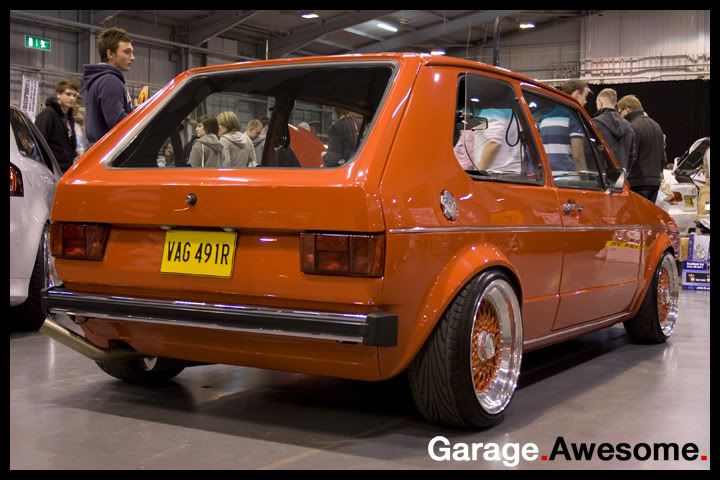 Although each car seemed to follow an imaginary guidebook on 'how to create the perfect VW' each one had unique twists or features that made the trip worth while, and as I have already stated, the quality and presentation that the cars had will go unrivalled in our opinion throughout the year. Now, for 3 of us the 'Dub' scene has sort of passed us by, but with a crossover starting to appear in the scene with stance and finish high on everyone's agenda, we felt it was about time we got involved to see just what these guys were doing and of course our resident dubber; Robbie was constantly nagging at us to make sure we were there!
So with his nagging fresh in my ear, I managed to contact Dean from the event organisers; Dub Shows who were keen for us to come down and experience what they were laying on, and add a bit of 'Dub' flavour into Garage Awesome, so big thanks to Dean and the team!
It's the mods that are really key when it comes to the Dub scene, and at the top of that list are wheels. Lots of the popular Ronal, Schmidt and Borbet were spotted on the smaller wider cars, with many opting for a split rim by the likes of BBS and Image. Just to mix things up and further the opinion that the crossover between styles is growing in popularity, we spotted cars wearing motorsport based Compomotives, exotic Bentley and Lamborghini rims, a whole host of 'borrowing' going off from other VAG or BMW & Mercedes and a growing number of German vehicles are opting for the Jap fan's favourites of Rota; a choice often causing a conflict of opinions on the forums!
Air and hydraulics were also the mod of the day, with many a car sitting millimetres off the deck thanks to these latest innovations, whilst others opted for coilovers wound down to their very lowest to create the same effect but with sump, sill and chassis scraping consequences!
The paintwork was also of the highest quality, with cars wearing a mixture of custom one off paint, through to colours found on more modern models and even original factory colours, just applied with the love and care that makes the finish a hundred times better than when it first hit the roads. Fortunately, it wasn't just the paintwork you could see that was flawless, with some amazing work going off under the bonnet and inside, these boys really don't take shortcuts when it comes to creating their cars, something that even our pictures struggle to capture.
The Centre was littered with trade stands, companies such as Autoglym, Demon Tweeks, Dodo Juice and HIC Insurance all proving popular alongside the big players specifically targeting the VAG audience including Rotiform, Revo, Volks Bits and Dubkorps. The magazines were also all over it, with both Fast Car and Performance VW taking in the action and just like we were, sending their fans sneaky pics via the mediums of Twitter and Facebook.
How can we pick out individual cars to mention? I have no idea how the judges managed to hand out awards, it must be a hair pulling out kind of nightmare to separate the cars when it comes to prizes! However, Player's Mk3 Golf caught our eye, wearing 2 differing sets of Rotiform alloys and wearing a stunning matt Bronze/Burnt Orange paintjob, another car under the Rotiform banner was the lime green Caddy – it was minus an engine but featured carbon fibre panels and room for something special to power it! Of course, we couldn't go far without mentioning the Berg Cup arched Polo that last year was out competing in the Time Attack series! Amongst the non-VW marques represented we found some tidy Arosas and Leons and a good handful of Audis, including a stunning yellow A3 with matching wheel centres and a couple of Porsches had made their way into the hall of about 250 pre picked cars.

All in all, a fantastic day out and although you won't often find me singing the praises of the VW world, you cannot argue with the facts and the numbers, a packed Telford International Centre, the highest quality of cars we have ever witnessed and a well organised, fair priced event… indoors, away from Garage Awesome's usual weather problems means that Ultimate Dubs has started the season off with not just a bang, but a bloody great big explosion.
Thanks again to Dean and the team, if you missed it or want any further info on the other shows these guys are involved with point your browser to www.ultimate-dubs.co.uk
Words – Ollie // Pictures – Robbie G & Chris
1413.0