Cruising may not be a crime, but it does often wind up with some bad press and all modified car enthusiasts being labelled as villains and criminals, but for Garage Awesome it's the perfect place to spot cars with that little bit extra and get them shot and onto the site before the magazines can snap them up, and after spotting Luke Poucher's sweet Civic it would have been a crime for us not to feature it!
If it looks familiar then cast your mind back to January and Street Scene's cruise, where we spotted this simple yet stunning Honda lurking under the lights of a drizzly car park and instantly knew we had to grab him for a feature. Now, as far as extreme styling or tuning goes, Luke's car is neither, but with a mixture of rare and well chosen parts he has managed the even more challenging feat of creating a show stopping ride but without being obvious or in your face.
Now, I pride myself on being a car geek, with a fountain of both useful and useless knowledge and a memory full of engine codes and model numbers, but my Honda knowledge found a worthy competitor when talking to Luke, who has clearly spent many an hour researching each and every part of the Honda range. This is by no way a bad thing as the time and effort Luke has put into learning the theory has manifested itself in a 100% pass mark on the practical!
The Civic is Luke's third modified ride, with an Astra and Saxo VTS preceding it, but with a mate taking him out in his EP3 Type R, the hook of VTEC kicked in and kicked Luke hard and so the search for his own taste of the Honda brand began.
Amazingly, it was just under a year ago when Luke picked up this then standard Honda Civic Coupe and since that day he has been busy transforming it into a style he describes as "US style, with a hint of JDM".
The stunning EM1 coupe has a brilliant blend of parts that Luke has carefully picked out, using his knowledge and scouring the for sale and traders threads on the popular forum; Civiclife.net. Up front he has bolted on an Airwalker bumper which transforms the front end and although it left a large gap and a usually hidden bumper panel, Luke got busy with the stickers to liven things up.
In addition to the bumper a super-lightweight carbon bonnet has been added, although not without problem, "I left it up for a few hours at a show once, and the sun warped it… it took 2 months for it to settle back after" Luke explains. Under the carbon hood, you will find the popular B16A2 lump. The revvy VTEC 1600 engine in standard form makes nearly 170bhp and with the addition of a carbon 'Slug' intake and full exhaust system, that figure may well have gained a few horses.
Inside you will find a pair of red Recaro seats usually found in the Integra Type R models as well as extremely rare red mat set from a genuine JDM source!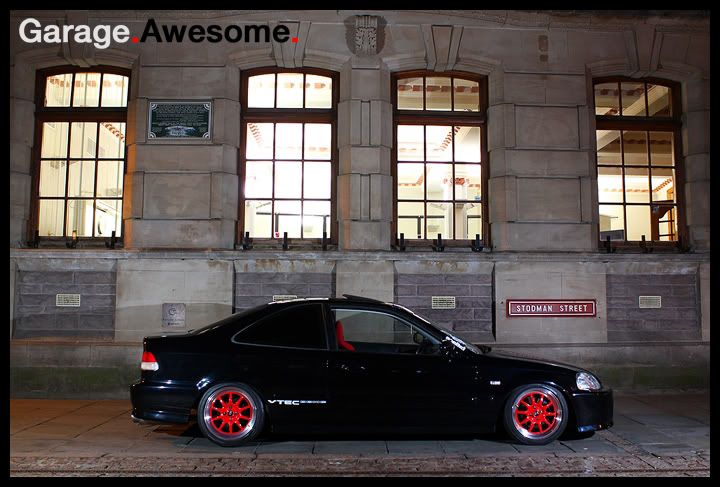 Rota is the current wheel of choice for this Civic, the contrasting red 16″ GT3s are a popular choice but with good reason, just look at them! Bringing the body down towards the sweet wheels are currently a set of cheap coilovers, but Luke has his eye on a set of Meister R's for the future to get the car even lower. With a set of H&R 25mm spacers sitting up next to the hubs the car's current stance already causes Luke a headache, with the tyres already smashing into the arches, especially at the rear where a hefty dose of camber was needed to tuck them in.
What's next up for this Civic then? Well, with his mates leading the way in the power stakes the idea of 'charging the Honda is a possibility, and with more lows on the horizon, Luke is also thinking hard about his wheel choice and swapping the Rotas for something with a US flavour, maybe even a BBS wheel!
It's simple, it's stunning and the owner knows all there is to know about it, and now you know the basics you can catch the car in person at next weekends Marangoni Fast Show or one of the upcoming big Honda meets.
Words – Ollie // Pictures – Rich
1452.5