As we get stuck into our busiest week since we began, it seems only fair that it's a nice day and involves a little motorsport, and fortunately for us it involved an amazing day weather wise and our (and most of the UK's) favourite motorsport as we headed to Silverstone Circuit for the Press and Media day of the 2011 MSA Dunlop British Touring Car Championship.
Now, like many of you reading this will know, the BTCC is something you just can't help but love. No doubt your dad got you into it and you remember the heyday of the mid '90s. Well, this year things have changed and have taken a giant leap back to replicating that era, with the brand new 'NGTC' regulations being phased in it has lead to a record entry list of 27 drivers!
The Touring cars are always going to be a fan favourite; with great battles and action throughout the races and most importantly cars you usually see carrying reps and businessmen up and down the motorway, out on the track trading paint, mirrors and various body panels as they go round. Garage Awesome love the Touring Cars, so when the opportunity arose for us to make a visit to see them in action 10 days before the season has even begun, we just couldn't pass it up.
The record 27 drivers means that a staggering 10 manufacturers will be represented over the season's 30 rounds and with team developments and driver swaps being arranged as late as yesterday, it gives us that familiar feeling only usually found on football transfer deadline day!
Media day is a chance for the teams to get out, invite the sponsors down and show off their winter's work to the motorsport press, and luckily for BTCC fans, the afternoon is open to the public too, so you can get along and see your racing heroes up close and watch the cars as they run through a live, timed, official test session.
So, if you haven't had chance to catch up on each and every detail of the BTCC, or are a new fan, then grab a cuppa and read on as we guide you through the runners and riders of the 2011 championship.
The most obvious place to start is with one man: TV presenter and 2010 BTCC champion; Jason Plato, who will proudly wear the Number 1 on his Silverline Chevrolet Cruize and no doubt be gunning for a third title. Plato is partnered on the Chevrolet team by Alex MacDowall, who embarks on his 2nd season in the BTCC, hoping to improve on last year's 11th overall finish.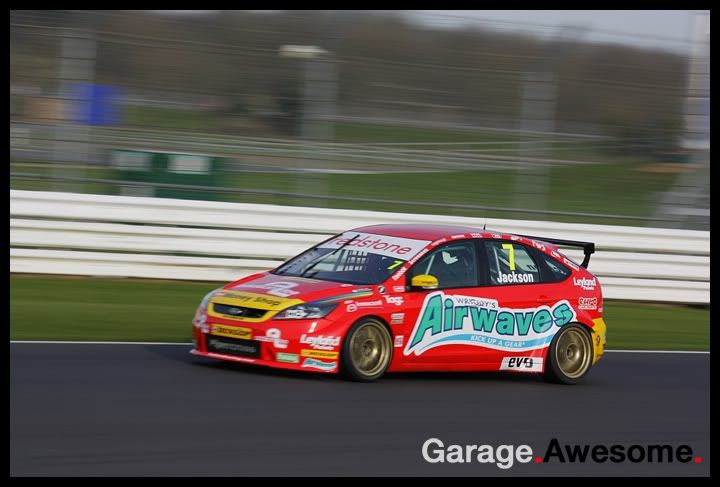 The Chevrolets' main and closest rivals come in the form of the Honda Civics, and this year sees an unchanged line-up of two time champion; Matt Neal and Gordon 'Flash' Shedden. Team Aon Ford got amongst it last year with both cars in a position to take the title in the final round, this year they are back and using the brand new Ford Focus Global Touring Car chassis to help regular driver Tom Chilton and Andy Neate; who has made the switch from WSR to go that one step further.
Team Aon's old chassis are being put to good use however, with the Motorbase team, who previously ran BMWs, snapping them up and this year filling them with Mat Jackson and BTCC virgin; Liam Griffin. BMWs still feature heavily in the touring car line-up with Rob Collard and Nick Foster driving for West Surry Racing and ex Clio Cup driver; Dave Newsham running solo in his Geoff Steel racing BMW.
The Chevrolet fans will also have some more to cheer about when the more than popular Paul O'Neill and team mate John George take to the track as their aging Honda Integras have been replaced by Tech Speed for the Chevrolet Cruize. The predecessor of the Cruize, the Lacetti, will also be present on the grid with Team ES Racing fielding driver Chris James and a possible re-entry for another fan-favourite; Harry Vaulkhard and the Bamboo Engineering team.
Vauxhall is continuing its good work on assaulting the BTCC with a selection of cars again this year, Andy Jordan actually went fastest in the official test today in his Pirtek Racing car and is partnered by the white Vectra, driven by Jeff Smith who made a single round appearance last year. 888 Racing are also heavily involved with their two Vectras being piloted by James Nash and Tony Gilham.
Before we come on to the real new kids on the block, 2011 sees Tom Onslow-Cole take over driving the often unreliable AmD VW Golf, Lea wood is back out and this year is the only one to run the Honda Integra chassis and Tom Boardman is holding up the Seat banner in his Leon.
The most exciting developments over the close season have been that of the new cars and teams, with a Toyota Avensis being chosen as an R&D car for the new regulations we see two of them make their way to the start with ex Ginetta Driver; Frank Wrathall in the Dynojet backed car and Speedworks Motorsport running the second driven by Tony Hughes. Audi are also being represented with Rob Austin Racing running two rear wheel drive A4s in the capable hands of Dave Pinkney and a second driver who has yet to be announced. The final car we will see won't be out until the Snetterton round, but Daniel Welch will complete the grid, and add a final manufacturer to the tally as he aims to put his Proton up amongst it.
It all kicks off next weekend at Brands Hatch and is going to be the one to watch this year and that is made nice and easy thanks to ITV4's race day coverage, should you be unable to make it to the circuits in person. Forget Formula 1… here come the Touring Cars, and we CANNOT wait!
Words – Ollie // Pictures – Ollie & Rich
1626.6