It's back! Finally we feel our season has officially started as we welcome back, with open arms and poised cameras, the Time Attack season! It's something that Garage Awesome has become more heavily involved with over the winter months and with 5 rounds brimming with action it's turned into the most important event on our calendar!
As a quick recap, if you have missed out on the phenomenon that is Time Attack, the basic premise is to take a car, tune it to your heart's content, comply with the regulations regarding safety… and get out on track to post your best time, incredibly simple yet incredibly popular and effective!
This season is the first year that the Time Attack series has been granted MSA status, meaning the governing body of motorsport here in the UK has taken notice of this championship and given it their support, which is great news for its future and further development!
One of the major changes and developments from last year has been the tyre choice for competitors, going from the track specific Toyo brand to a fully road legal, none track specific, Pirelli tyre! Now, it's safe to say that this didn't go down well with all the competitors, in fact a few of the big names are missing altogether from the series, but behind the scenes the Time Attack team worked endlessly to test and develop the Pirelli product to make sure that, not only that it was safe and suitable, but that it also allowed the cars to be as quick and competitive!
Round 1 saw us head off to Oulton Park in Cheshire where a bright sunny morning greeted us, and a quick walk around the pits confirmed our thoughts that we would see some new machinery entered and major changes to those cars that we recognised from our adventures with the Time Attack last season!
Our first stop is to check in with the Pro and Club Pro Class and with an entry list comprising of only 5 Club Pro and 6 Pro cars, it was wide open to anyone who wanted to take it! Now, critics will say that a non contact, race against the clock series can never be as exciting as the traditional race meet, but when you become as engrossed in the action as we have become, it can be just as much of a rollercoaster ride as any of the major race series out there.
First up is the obvious lack of both last year's winner and runner -up in the Pro Class meaning some new faces are going to rise through the ranks to put their car on top spot. First to take that early break was Gavin Renshaw who managed to put his Evo over a second clear of the chasing Skyline of Marcus Webster and Impreza of Paul Doyle in the warm-up session.
Renshaw also managed to top the chart in practice, shaving over half a second off his warm-up time, but Doyle had managed to close the gap to half a second, leaving Marcus Webster and the two Evos of Russ Patton and Michael Mahoney a good 3 seconds off the pace.
It was Renshaw who continued his domination through to qualifying, setting the quickest time of the day, leaving Russ Patton, who had moved his way up to 2nd, over 4 seconds behind him! Mahoney clocked in a third place, just 4 tenths behind Russ and Duncan Graham in the Impreza had made progress to 4th, leap-frogging both Webster and Doyle.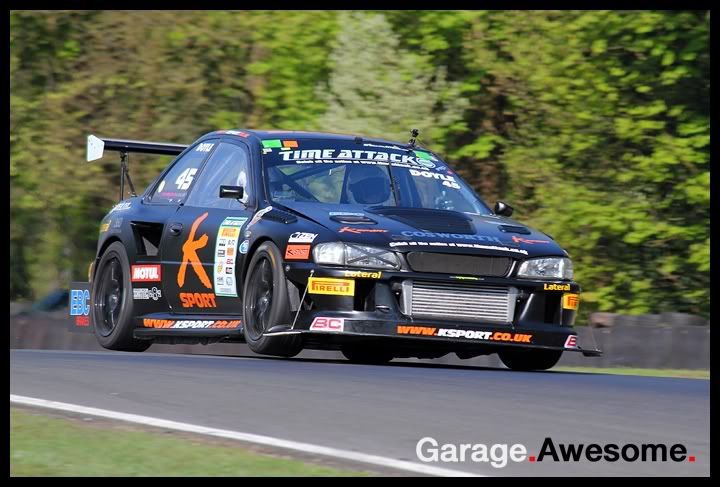 But it wasn't to be for Gavin, an aggressive line saw him hit one of Oulton's high kerbs, snapping a track rod and sending him into the grass right at the end of the session, causing what appeared to be only cosmetic damage but lead to by far the fastest man on the track not posting a time in the final! The opportunity was seized, however, by Duncan Graham who had kept his cards very close to his chest until he unleashed the BC Racing Subaru in the final to claim victory by over a second from Mahony's Evo and Doyle in the K-Sport Subaru.
Club Pro also had its twists, almost echoing the Pro Class with Warren Kelly's Escort leading the charge in both warm-up and practice before a terminal transmission failure during qualifying saw him out and the car lifted away from the circuit!
With Neil Roberstson also running into problems, the podium places, and that first win were a straight fight between the two Nissan Skylines of Scottish driver; Fiona Kindness and Walter Morris and another Escort Cosworth driven by David Jackson. It was Jackson who came out on top posting a time just over half a second quicker than Morris, with Fiona an agonising 2 tenths further back.
So, Round 1 is over and done with, it's now time for the ladies and gentlemen to return home and work on a plan for a month's time where we will be coving the action all over again from Knockhill in Scotland – and with any luck a few more entrants might appear… including our very own Rob Cowling who we will hear more on later in the week!
Words – Ollie // Pictures – Ollie & Rich