With the smell of tyre smoke still fresh up our nose and on our clothes, and our hair full of tiny shards of rubber, it can only point to one thing, yup, you guessed it, we have been drifting. More specifically the Garage Awesome team hit Teesside Autodrome for Round 1 of the Drift Allstars!
Considering our first 2 events we ever covered in the history of Garage Awesome were both drifting events, we have since been a little quiet on the drift front with a trip to Santa Pod's RWYB day back in January being our only token nod to this popular activity so far in 2011! We may have caught a bit of the EDC last weekend, and kept a close eye on proceedings from the BDC at the beginning of the weekend, but the one event that is a firm drift favourite for Garage Awesome, is the Drift Allstars!
Drift Allstars you may well remember as 'JDM Allstars' but this year a touch of rebranding and developments in both international events and drivers, it's clear to see why this particular brand of drifting has risen to the top of our 'must get too' list. Already, the team have events planned in for Wembley and our home circuit of Donington Park and with amazing events taking place in France, Malta, Dubai and Poland, perhaps it's time to dust off those passports!
It's not just the rounds that take on an international line-up, the drivers are also appearing from all over with a large contingent heading over from Ireland, a handful from Poland and even competitors bringing their machines to the events from France and even Italy!
For Round 1, there were no ferries, planes or trains involved for us, just a hop up the A1 to the North East to Teesside Autodrome; renowned for its go-karting, the track had been transformed into a drifting paradise, with long sweeping turns mixed in with tighter hairpins to bring the packed spectator banking plenty of close and exciting action.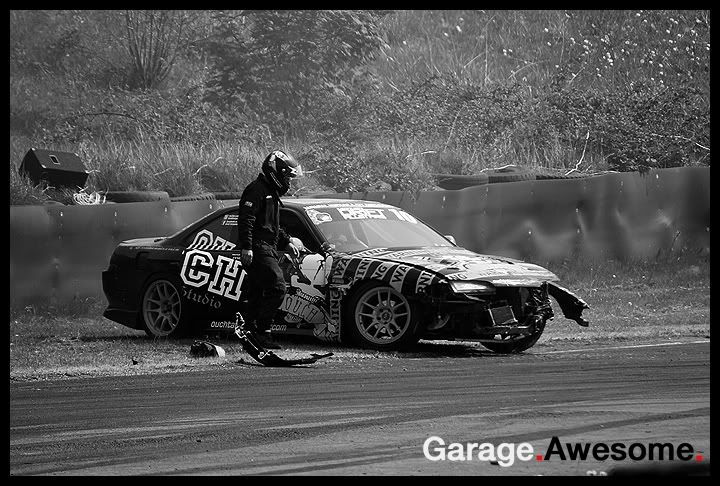 The day kicked off with a couple of hours of practice and despite being warned in the media briefing that there may be long gaps as the cars won't be out for 2 hours, we hardly had a minute as the drivers made as much use as possible of the track time. Even practice doesn't go without incident however, both Martin Ffrench in the Lexus and the S14 of Brad McQueen both had offs, Brad's ending in a destroyed front end after hitting the wall on the approach to the first corner! The two WKD Imports cars of Barry Leonard and Wesley Keating also had a coming together, resulting in Leonard's car looking rather second hand for the qualifying runs.
Qualifying saw each driver complete two judged runs, with the top 16 highest scoring proceeding on to the all important twin battle finals. Qualifying passed without major incident, although Jon Calvert seemed to be struggling with some gremlins in his S13, and Christy Carpenter decided the back of his S15 would be better off without the rear bumper!
After a lunch break, the drivers re-assembled for another quick briefing to be told just who would be part of that top 16. Our cameras poised and our ears pricked as we heard that Alberto Cona, Tom Yates, Rob Finn, Anthony Scott, Benjamin Boubles, Barry Leonard, Jerome Bucamp, Stiggy Evans, Ian Phillips, Nigel Colfer, Christy Carpenter, Stuart Hansford, Brad McQueen, Wesley Keating and Marin Ffrench would go through along with #1 qualifier; Irishman James Deane who was driving the Low Brain Drifters Nissan Silvia that Luke Fink used last year to claim the title.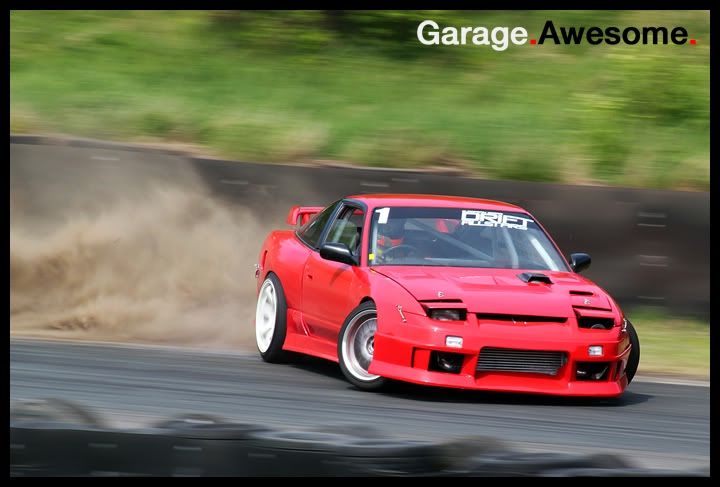 In the top 16 it was Deane who appeared first, easing aside the Italian; Alberto Cona in the BMW. Stuart Hansford, who didn't have an engine in his S13 until last weekend, progressed ahead of Rob Finn and Wesley Keating put out the Rocket Bunny S13 of Anthony Scott. The Frenchman; Benjamin Boubles made his trip worth while as he made his way into the top 8 at the expense of crowd favourite; Brad McQueen but Nigel Colfer turned out to be too much for another Frenchman; Jerome Bucamp.
Ian Phillips' LS1 V8 powered Skyline had a tough battle against Stiggy in the mental Toyota Starlet, but a spin for Stiggy gave Phillips a clear advantage. In an all Irish battle it had to go "one more time" for Carpenter to get the better of Leonard and Martin Ffrench eased aside the struggling Tom Yates.
The top 8 also saw some nice tight battles with Deane knocking out the last French driver; Boubles and Colfer dispatching off Hansford. The English flag was left to be upheld by Ian Phillips, who beat Wesley Keating and in another all Irish battle Ffrench and Carpenter went "one more time" where a spin from Carpenter gifted the battle to the Lexus driver.
Semi final time and, with the judging becoming even more difficult, it saw Colfer and Ffrench head on through to the final beating Deane and Phillips respectively. In the battle for the 3rd podium spot, Phillips and Deane went head to head but eventually James Deane made sure all 3 steps on the podium were Irish filled!
The final, as is very often the case, was one of the best battles of the day, with no-one wanting to give an inch or be forced into a mistake, but when Ffrench pulled away on his lead run and then stuck to the back of Colfer on his follow run, the judges were unanimous in giving the spoils to Martin Ffrench.
We have defiantly missed the top end of drifting and JDM, or Drift Allstars as it's now known, is gonna be right on our radar for 2011. Some top drivers and well organised events keep us gagging for more and leave us with no problem in staying right till the very end, a credit to Niall Gunn and his team for the hard work they have put in to developing this series. Next stop is Sunderland, and the Nissan Plant on the 14-15th May, which poses a slight problem for us due to a date clash… but we will have to see what we can do as this is defiantly a case of 'Miss it, Miss out'!
Words – Ollie // Pictures – Ollie & Rich
2657.2