Finally, after a mental but brilliant past few weeks and weekends where we have crammed no end of stunning coverage into the pages of Garage Awesome from a whole manner of events, from all over the country, I have managed to find myself a little time to kick back and bring all of you up-to-date with all the goings on behind the scenes with "our" team competing in the 2011 Time Attack series; Ameon Racing.
For those who are new to what we have been doing over the past 8 months, at the turn of the year we were contacted by Rob Cowling, driver of a very successful Mitsubishi Evo when he competed in a few rounds of the Time Attack at the back end of 2010, who wanted us to take some snaps of the Evo, maybe do some write-ups to increase the team's profile and encourage sponsorship, in return, Rob instructed vehicle wrapping supremo and fellow team sponsor; Kev at Autopro Motorsport to add our logo into the car's livery design… I mean, how could we say no?!
Since the initial emails, you may remember we met up with all the team at Oulton Park, where the Evo was planned to have its maiden outing and offer passenger rides to the team's sponsors, family and friends… and that included us! Unfortunately, a week or so beforehand, the engine let go on the Evo as it was being dyno'd, and for stat fans it had made 730bhp with an impressive 650lbft of torque before it decided it was no longer going play ball, and that's where this catch up picks up from; a broken Evo, a disappointed Rob & team and the first round of the Time Attack series fast approaching…
Of course a blown engine is not a great feeling, but the saving grace was that it happened on a dyno at a well known tuner who had knowledge of the engine… as they had had a hand in building it, replacing parts and internal components in anticipation of Rob's hopeful power output of over 700 horses. Now, at this point I need to make clear as to why I am being a bit generic and using the phrase "well known tuner", the long and short of it is that, for reasons that will become apparent, a legal battle has begun and therefore I have been asked not to mention the company in this write up, but hey… it wont take much digging about on here to find out, if the Inspector Morse/Miss Marple in you really must know!
Onto the initial diagnosis then, now Rob was advised by said specialists that a Gudgeon Pin, (which for those not 100% on their engine components can be found attaching the Connecting Rod (Or con-rod) to the Piston itself), had sheared, snapped, broken, given up etc, etc, etc. At this point keep in the back of your head that we're only a month away from the season opener up at Rob's home circuit in Cheshire; Oulton Park.
Now, Rob may not be a mechanic by trade, but had immediately questioned the initial diagnosis in his own mind, as had Ameon's race technician; Lee. Further investigation by the team via forums, info pages and ringing 3 independent specialists left the team with a rather bitter pill to swallow, with all fingers pointing to the same thing; bearings, bearings that had failing and caused the rest of the internal damage… the very same bearings that the original tuning company had been paid to replace and upgrade.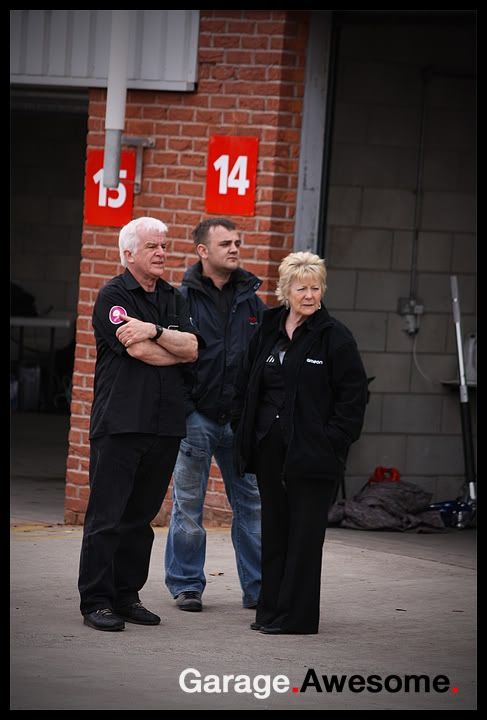 Rob and the team decided to do some proper investigation and, without anyone knowing, the Evo was transported to MG Autos in Ripley for a strip down and full written and documented independent report to help both diagnose the actual problem with the engine and prove any wrong-doing by the original engine builders, should there be a legal dispute. A week passed with the car at MG Autos with no word from them then, just before 11pm on the 21st March (a shade over 3 weeks before the action was due to begin) my phone springs into life, it's Rob, and he has some news:
"I have the independent report from MG Autos re. my engine", it read, and as I scrolled down the screen I realised just how complicated this whole matter was about to become and could sense the disappointment crossed with anger that Rob and his whole team must have been feeling.
"The report has revealed that the bearings HAVE failed, the same bearings that 'XXX' have SUPPOSEDLY replaced"
it continued;
"It gets worse though, it has also revealed that the bearings haven't been replaced at all and have been charged for work that just hasn't been done… I'm now looking at an estimated bill of 6k to put it right"
Everyone had the same reaction, when I rang Coop and Chris to tell them the news, they were equally as upset, with us really being made to feel part of the Ameon Racing set up, it's become way more than a passing interest and an opportunity to take pics of a car, it's fair to say everyone involved had an emotional cocktail of anger and disappointment.
Even so, it's almost impossible to keep the team down, I urge you to go see the team at the next available chance, Rob is always on hand to crack a joke and wears a constant smile no matter what's happened and with the whole team being friends and family away from the track, the spirit in the Ameon camp is something that we have never experienced before.
With the options laid out in front of them, and enough evidence to start legal proceedings to recover costs and damages, it was time to get back to the job in hand and work out how the hell they're going to get this Evo out for Round 1. MG Autos, who are now fully onboard with the team, had given Rob the nod to do their very best, a new block was decided upon from Ross Sport, apparently good for 900 rampant horses and made its way to the MG Autos' workshop. Time ticked on, small updates came in but nothing substantial until more investigation discovered that the damage caused on the dyno also pushed the pistons higher than they should be with the resulting damage to the valves becoming apparent… great, yet more work, frustration and cost for the team!
A race against time was on; would Cinderella make it to the ball? Was it possible for the car to be up and running in time to head out with the others?
*BEEP BEEP*, text message from Rob, I glance at my phone in anticipation. Now, one thing you can't say about the Ameon team is that there is ever a dull moment: the car hasn't even turned a wheel on the track yet and we have already had more drama that most teams would have in an entire season, but that's not enough, Rob knew I'd have to write this and just like a episode of Eastenders, it unfolded into more drama!
2 days, yes 2 days before the Modified Live season starter and round 1 of the now MSA accredited Time Attack championship, Rob's dad was moving the trailer when it jack-knifed, throwing Rob's dad's car into the central reservation, damaging it as well as the trailer… which was carrying the track weapon "Bad Boy" Escort which also suffered some damage. Of course, the most important thing to report here is that both Rob and Tony were ok and escaped un-injured.
For the Evo, it wasn't to be. Round 1 was out of the question, with MG Autos finding more and more problems to fix, the clock ran out on them despite working right up until the last possible moment, Cinderella would miss the ball… or maybe I should say Cinderella's first choice of carriage would miss the ball…
Yes, that's right folks, there was no way on this earth Rob was going to miss out on ripping up his home circuit, and following a call to the organisers explaining exactly what had been happening, the Bad Boy Escort was promoted and flung right in at the deep end of the UK's premier modified car motorsport event! Despite its humble 130bhp, 1600cc powerplant, Rob gave it full beans, all day it continued to get mentioned by commentator Bryn Musslewhite and put in some times that were beating properly prepped race cars designed for Time Attack events! It really goes to show just what this team is about, and why we here at Garage Awesome are so proud to have our logo on these cars, they are a massive fan favourite with or without the Evo and have everyone on the edge of their seats with the twists and turns that has been the rollercoaster ride in the lead up to round 1. Yes, that's right folks… this is just round 1… and there are 4 more to come!
To bring us totally up-to date, the Evo is now running and is due to be mapped this week or next, again we only have 2 weeks until the whole team, including myself and Coop, head up to bonnie Scotland and fingers and toes crossed we will be able to report back on a successful weekend for the Ameon Evo at Knockhill and maybe open Rob's points account to make up for lost ground. From now until then… who knows what we're going to come up against? If you really can't wait for my next novel, then head to either our or Ameon's Facebook pages Facebook.com/garageawesome for snippets of information and updates from Rob himself as the next round beckons.
Words – Ollie // Pictures – Ollie & Rich