As we continue to reflect on our trip to the picturesque Knockhill circuit, we pick up the action with the competitors in the Club Class. These guys are just like you and I, most have probably built a fast road car and thought "Time Attack, why not!" and the vast majority are self-funded, often self-built and not backed by major blue chip sponsors and tuning houses. As an ideal breeding ground for fresh tuning talent or driving skill the Club Class is equally as competitive and has the benefit of a real eclectic mix of cars going after those all so important championship points!
The four, 20 minute sessions gave the drivers unfamiliar with the Knockhill layout a good chance to scout each lap and work the best line for their vehicle and also become accustomed to Knockhill's aggressive kerbs! 16 drivers had entered, including a couple of new faces, but missing the Sierra Cosworth of Ronnie Amis, Steve Peel and Charlie Butler-Henderson in the Redbrick Civics, Jonny Fletcher's Astra GSI and Eric Holmes & Lee Bullen in the Evo and Impreza respectively.
New entrants included a car we have seen before, last time under the control of Simon Deaton, but back for 2011 still retaining its bright pink livery; Alan Freeland's Evo. Another car we saw in action with great success last year was Romain Levesque in the CRX, who after missing out on round 1 action, rejoined the group as they took on Knockhill. Matt Lawson in the Mitsubishi Evo 4 is a car or name we're not so familiar with, it'll be interesting to see if he continues into the rest of the championship.
Warm-up saw three drivers immediately dip under a 1 minute lap time, all in the 4WD class, with the Imprezas of Chris Bennett and Adam Kindness leading the way and the Evo of Round 1 winner; Andy Barbour chasing close behind. The rear wheel drive class would be a two horse race all day with only the bright green Vauxhall VX220 driven by Jimmy White and Umar Masood's RX7 entering!
That said, it would only be a four horse race for the front wheel drive class, with Levesque joining Dave Thorpe's Civic, Bo Nielsen's Astra and Gerry Atkinson's tmpressive naturally aspirated Seat Leon Supercopa. As with the Pro and Club Pro drivers, for a few it wasn't all plain sailing, poor Dave Coe managed to complete only 5 laps of the warm-up session before pulling up right in front of me with a problem that caused the Marshall to let off an extinguisher, meaning his day was done and only a long trip back to South Wales remained! Even less action was seen by Simon Nutter and the team at SRC Racing, who after two laps came into the pits, and never went back out, a real shame for the guys who had terminal engine failure in Round 1!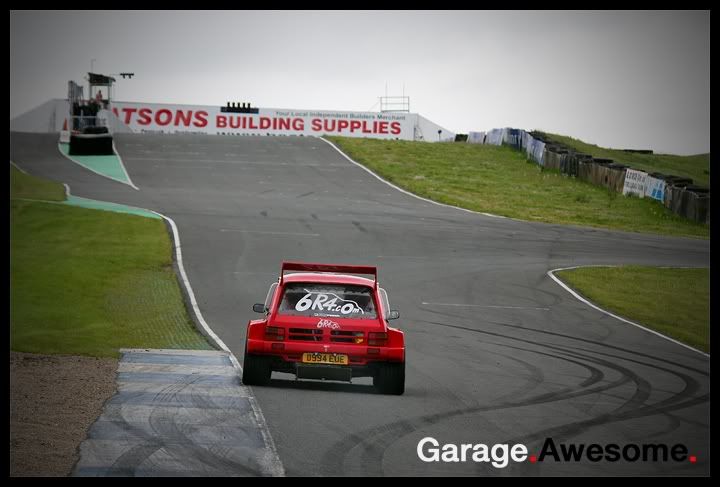 Practice saw a big jump in the times with Alan Freeland making an instant impact into the series setting a time quicker than anyone else… even in the Pro Class! Subaru dealer backed; Jon Mathers' new age Impreza hatch did its upmost to cling to the pink Evo but found himself just over a second behind. Round 1 winner Andy Barbour and early pace setter Chris Bennett followed with Matt Lawson and Mark Pollard being the other drivers under a minute, although midway through the session, Pollard pulled his Metro 6R4 off at the end of the pit straight.
Qualifying found Freeland out in front again, although Barbour had closed within three tenths and overcoming his earlier problems saw Pollard climb up to 3rd qualifying spot. Levesque lead the cars driven by their front wheels, with Gerry Atkinson hot on his heels and the damp conditions seemed to suit Umar Masood's RX7 better than the supercharged VX200 of White.
With the final in everyone's sight, the rear wheel drive class was settled almost instantly, with White's Vauxhall running into serious problems leaving him to complete only two laps, his best taking over six minutes, gifting the win to Masood who, in all fairness, busted out his quickest time of the day when it counted! The front wheel drive class remained incredibly tight right to the wire with Levesque making his last lap of the day his fastest and enough to mark his return with maximum points leaving Nielsen in second and Thorpe third; Just 0.3 separating all three drivers! The four wheel drive class also saw a win for a driver on his first 2011 outing, and Alan Freeland backed up his practice and qualifying successes with a round win, narrowly beating Andy Barbour into second place. Matt Lawson made it an Evo 1,2,3 pipping Jon Mathers into 3rd place overall.
So with Round 2 done, it throws the championship wide open as the teams and cars prepare for a double header event at Kent Circuit; Brands Hatch where we will hopefully see a full entry list and maybe some more competitors and you can see all the coverage of both rounds, and all the classes on www.garageawesome.com
Words – Ollie // Pictures – Ollie & Rich