Like a perfect pint of Guinness the phrase goes 'good things come to those who wait' and whilst we're blasting out some sayings, in this case – 'patience is a virtue' would also be appropriate! The thing is that Matthew Spencer has been eagerly awaiting the feature on his trend-setting E46 BMW 325 Sport for nearly 3 months to go live on Garage Awesome and due to our hectic few months, it's only now I've found the time to bring to you our latest feature car!
Now, strangely enough, this isn't the first time that Matt, or 'Spener's' bimmer has made its way onto the pages of Garage Awesome; it has made an appearance on a few cruise and event reports before its latest makeover, and we also helped him out by dropping the first exclusive pictures of the new look to all his friends by doing a late night shoot and a quick article the night before Santa Pod's Fast Show, going live just minutes before he left the house!
Aside from the time it's taken to drop this feature, and the previous exposure on Garage Awesome, we can't go any further without bringing a key point of this car up. Now, at the risk of dropping a third phrase or saying in as many paragraphs, I think it's safe to say most of you will have heard the phrase "Built not Bought", it's hard to escape it, arguments on forums and facebook pages and stickers depicting exactly that can be found everywhere, but if one car deserved to wear such a sticker, then Spener's would be it.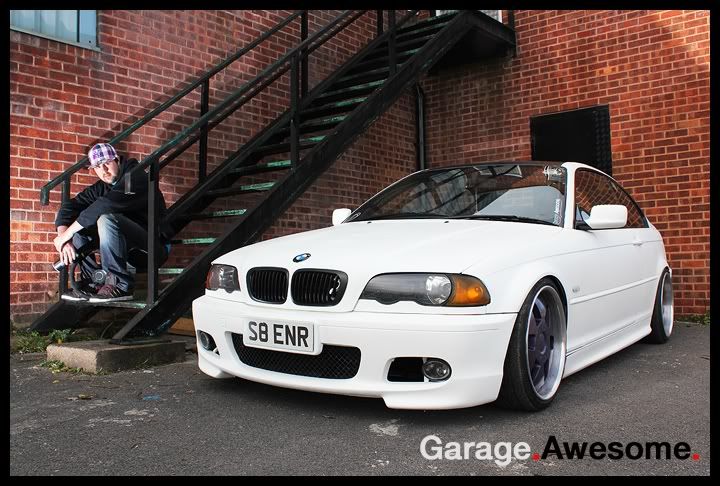 Now, I'm not going to get into the politics of built not bought, I have my opinion on the whole thing that could fill a feature itself, but what I'd rather do is focus on just how much of the work that has been done to get this E46 looking as sweet as it does… by the owner himself! If we rewind a few years, like most, Spener had a car rocking a big bodykit, in fact his Renault 5 was proudly on display at Max Power Live at one point then during a winter brainwave, he decided to tackle a full re-design himself and ever since has been right in the thick of things when it comes to modifying his own rides.
Unfortunately, the trusty 5 ended up being collected by a scrap merchant in exchange for just £60, lesson learnt I feel! Following the French hatch saw Spener turn his hand to a Mk4 Astra Diesel, which unfortunately also ended in a scrap yard… once it had been retrieved from the hedge he managed to put it in! A pair of Mk4 Golfs followed and although both were tidy, Spener tells us that he was tired of the same mods on the same cars and no one doing anything different, so the Golfs went and in came the reps favourite, the 3 series!
Almost instantly, Spener went for the "I don't care what you think, it's my car" approach and would often quote BMW owner forum comments on his facebook, and Maxxd.com build threads – much to the hilarity of those that know him. Before he had really had chance to enjoy the refinement of the 'Ultimate Diving Machine' BMW, the tools were out and wheels off and, despite the Spener's model choice being the sport which came with a respectable set of alloys, a set of 19″, staggered, M6 replicas were thrown on in their place. Before long, and after a few beers and some encouragement, 2009's Modified Nationals show was the springboard this car needed to create a stir in the scene, with it having photos being taken all day due to the alcohol-induced 9-10 degrees of negative camber it was rocking at the rear!
This would set Spener on the journey to follow the examples of the cars mainly found on the glass-smooth roads in the States and that run under the Stance'd, Hellaflush and perfect fitment banners, an influence that you can clearly see on the car as it sits today! The M6 wheels were soon not going to cut the mustard with the scene, and after some forum scouring a set of split rim Gotti G1001s found their way onto the car, this time in 17″ form but with an 8J up front and a 9J rear. Not happy with the finish, Spener's handywork came into action with a split, referb, repaint and rebuild with only the stretched rubber being added by a third party!
Bodywork was next on the cards, taking caution from his Renault 5 days, a US boot tub was made by cutting and welding a second boot he bought locally, giving it a totally unique look, but with a USDM flavour! The mk1 version of Spener's boot or 'trunk', as he has gone all American, featured a smoothed in M3 spoiler, but after a bit of pondering, and it developing some cracks it was shelved in favour of the smooth and standard lines. Another trick mod that's heavily inspired by the US is the all red rear lights, although not 100% legal in this country, Spener has done it in such a way that he has received no hassle… so far!
Now even the most hardcore DIY mechanic, and at this point I'd like to point out although Spener's job entails using his hands, being a Chef is in no way linked to his mechanical skills, there comes a time when you just hand over jobs to the professionals, that is of course unless you're Spener, who set about the massive mission of custom fitting an air ride kit to the Bimmer. After many a curse word, a fair amount of expense and advice, the idea eventually got shelved and sold on as it just wouldn't take the weight of the bimmer without leaking. Instead of completely throwing in the towel, this lead to the start of the transformation into what you see here today.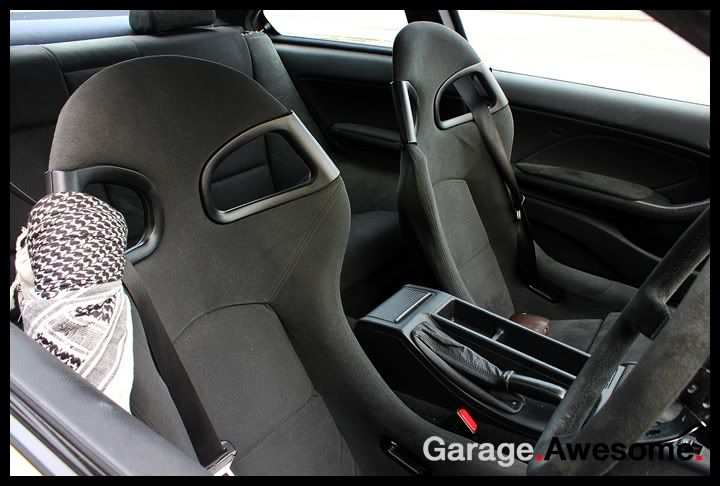 Air ride gone, Spener became a strong voice for the Static Drop Brigade, something both myself and Chris believe in and have much more respect for, and over the winter months a full overhaul was planned starting with, yup, you guessed it; the wheels! The Gottis moved over for a set of Jap fitment SSR Veinna Kreis and whilst it took Spener a bit of fettling with ride height, tyre choice and spacer size as well as the issue of making wheels in a 114.3 PCD fit a car that runs 120 PCD, but he got that spot on and flush, flush enough for the car to grace the pages of legendary US site; Hellaflush whilst we have been messing about with the feature making its way up my 'to do' list!
The interior was given a show-worthy overhaul with the comfy, cruising-spec electric seats being removed in favour of a sweet set of Porsche style units, a quick-release steering wheel and JDM inspired shifter mixed it up with his carbon dash and doorcard trim, giving the haters plenty of ammo… and Spener his next amusing status update!
Next on the hit list was a change of colour for the wheels… and the whole car! So Spener phoned his local bodyshop, oh, hang on there… no he didn't… HE DID IT HIMSELF! That's right, a full re-spray, no garage to work in, no professional tools, Spener changed the Topaz blue 3 series into a matte White stunner in a couple of days! The matte was chosen as he really wanted to do something different and give this car the edge, something unique, a talking point.
Talked about it is, with a mixed view everywhere he goes, but with copies spawning up and other matte finishes becoming popular, it's clear to see his choice was a good one! Most matte finish cars you see out and about are usually involving a big vinyl sticker, expertly applied to look like paint, the Spener method is to grab 40 rattle cans designed for graffiti artists, a load of masking tape and begin. When joining in on a detailing conversation recently Spener tells us to keep it clean he doesn't use Auto Glym, Meguires, Poorboys or Dodo Juice… he uses water and 800grit sandpaper, no joke!
Trend-setting is a tough business, and haters are a big part of the process, but the key thing with Spener's car is it's self made status; it might not be perfect, it might not be sweeping awards left right and center, but this is his daily ride, his pride and joy and his source of entertainment too. This car is no show pony, it's driven and driven hard too! Although the self made element is there, Spener isn't too humble to ask for help and advice so he can learn for next time and wanted to make a point of thanking those who have assisted him and encouraged him and even dared him to push his own and the car's boundaries! So his friends at Maxxd.com, his Mum and Dad, girlfriend Rach and the guys up at the source of some of his work; J29 Self Service Center are all listed along with the E46 forums, who must by now be his biggest source of encouragement… if only to annoy them!
Words – Ollie // Pictures – Rich (Day) & Ollie (Night)