What better way to welcome the summer in than a weekend-long trip to Kent circuit; Brands Hatch to take in not just one, but a double header weekend of action from rounds 3 & 4 of our favourite motorsport series; the Time Attack Championship!
With these guys' last outing being just over a month ago up in Knockhill, it had given the teams chance to adjust setups, fix problems and plan tactics ahead of the 2 rounds, with the benefit being if it all went wrong in round 3, then with round 4 on the same circuit on the following day those problems could potentially be overcome and maximise everyone's chances of scoring good points! As usual, we head into our coverage leading with the action from the cars and drivers in both the Pro and Club Pro Classes, these machines are at the top level of tuning with most packing well in excess of 600bhp, and require only the best safety equipment to match the raw power they deliver!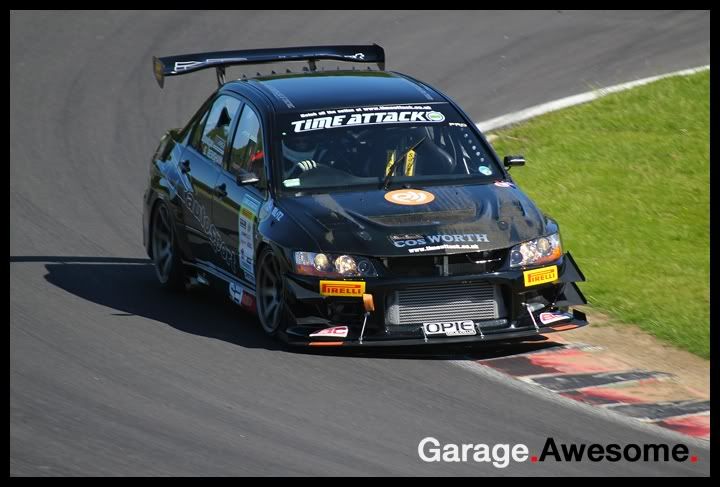 Saturday morning saw the teams wake up to a very wet track, something I'm not sure anyone was expecting or had planned for, but they headed out very tentatively with most struggling for grip on the black stuff, and a few making small visits into the grass! Gavin Renshaw picked up from where he left off in Scotland setting the quickest time in the NR Autosport Evo followed by Marcus Webster in the Skyline and Russ Paton in his Evo. Duncan Graham's Impreza was missing from the session and it looked like the team were either changing the setup preparing for the wet weather or sorting a fault with the car, and talking of faults, Michael Mahoney's Evo also headed for the sickbay after sounding decidedly second hand as it plodded past us.
Warm-up for the Club Pro saw all the drivers head straight out, Mark Pollards 6R4 was a new face in the Club Pro after moving up from Club Class that he had competed in in the previous 2011 rounds. Quickest man out on track was Rob Cowling who was shaking off the gremlins that had haunted him in Scotland and putting in impressive times, Neil Robertson, David Jackson, Warren Kelly, Walter Morris and Fiona Kindness also got their round 3 campaign underway.
With the track starting to develop a dry line, practice saw the cars go a bit faster, however the Pro drivers held their positions with Renshaw, Webster and Paton occupying the top 3 positions. Duncan Graham had finally made it out, but Mahoney didn't, this time it was the Wallace Performance team who were hard at it behind the spanners! There was also no change at the top of the Club Pro class with Cowling leading the way ahead of Morris and Pollard, who was making an instant impression in the Club Pro class!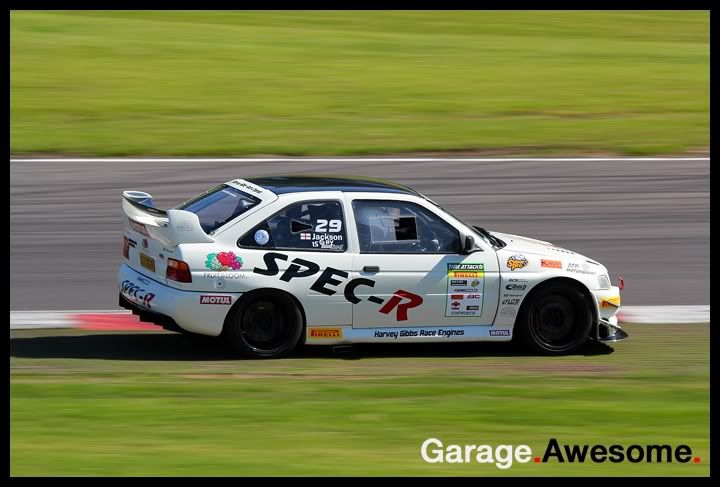 It only needed Renshaw to complete 3 laps in qualifying to take the top spot again and seemingly looked unbeatable, in fact both Webster and Paton held on to their positions too, making it a clean sweep for the 3 of them so far. One man on a mission to stop the party was Paul Doyle who, up until qualifying, hadn't been out for a fast lap but managed to position the Impreza 4th. Cowling really was out to make a big impact, picking up yet another class-topping performance and maximum qualifying points, but breathing down his neck was a pair of Escort Cosworths in the form of Warren Kelly and David Jackson. Neil Robertson's Evo appeared to be struggling with a few niggles as he was a little of the pace.
By the time the final came around the track was bone dry, and the anticipation of some quick times and down-to-the-wire battles. However, it wasn't long before we had an incident to talk about with a red flag coming only 2 laps in and unfortunately for us it was Ameon Racing man; Rob Cowling who had pulled off at Druids with engine problems, rotten luck for the quickest Club Pro man of the day to be struck down in the final. This however paved the way for the Escorts to take charge and David Jackson took full advantage putting his white Cosworth on the top step ahead of the Blue Cosworth driven by Warren Kelly and on an impressive debut in the next rung, Pollard picked up the third place trophy.
With the Pro cars underway too, there really was no stopping the totally dominant Renshaw who clocked up the quickest time of the day with a 51.665 leaving a gap of 0.555 ahead of another man who has been consistent throughout the day; Marcus Webster. Doyle's late lunge also paid off, knocking Paton out of the third sport. For those who love a few stats, Renshaw's Evo clocked 144.6mph at the start/finish line speed trap! Mental!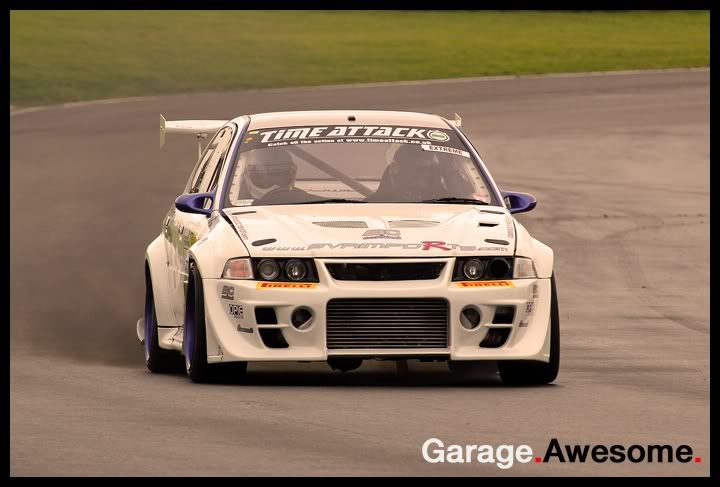 The second day saw the drivers with exactly the same track to contend with, but with a totally different climate! Gone were the wet lines and clouds and in was the baking heat of 30*C temperatures meaning a whole different approach to tyre pressures and amount of laps the cars could do before they ran the risk of overheating or severe heat stroke for the drivers… it really was that hot!
With only 3 sessions to concern themselves with, yet again it was Gavin Renshaw who set the pace in both practice and qualifying, meaning he had been fastest in every session so far this weekend, and again chasing him hard was Marcus Webster who took both 2nd places! Graham had overcome the previous day's problems and was running well, and although Doyle was closer to the leaders, we felt there was more to come from his K-Sport Impreza.
With Rob Cowling's Round 3 final problems being terminal, it paved the way for some new pace-setters in the Club Pro classes, and with Pollard also sitting out practice it saw Walter Morris rise to the top and round 3 winner; Jackson head up qualifying. Un-characteristically we found Fiona Kindness towards the bottom of the list all weekend in her Skyline, possibly not her favourite track as the car didn't appear to have any problems.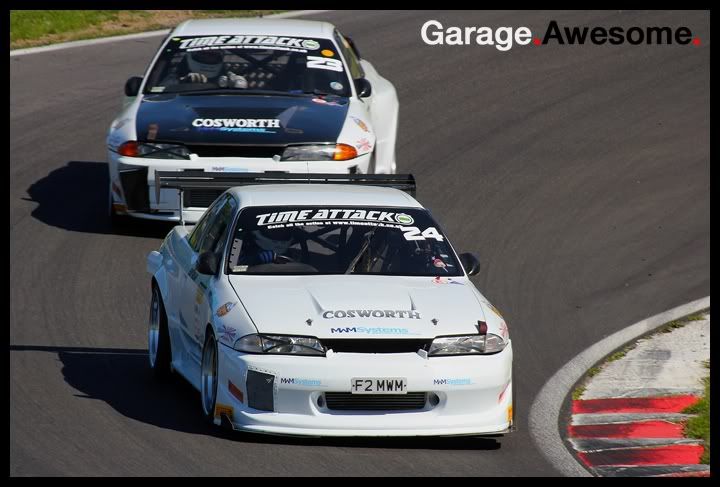 The final saw Walter Morris swap places with Jackson again and take the victory, although he did park his Skyline in the gravel at Druids towards the end of the session to celebrate! Jackson added a second place finish to his 1st in Round 3 and Pollard found himself on the podium again. Warren Kelly's team were working well into the final to get the car out there and despite not making as many laps as he may have liked he was rewarded with a 4th place.
But the big news of the day has to be the Pro final, I'd almost resigned myself to writing the words "clean sweep for Renshaw" but in an amazing turn of events, things weren't as clear cut as I had anticipated! Sure enough Renshaw set the early pace before returning to the pits as usual, he is always first out on the circuit and manages 2 or 3 laps before returning and usually that's enough, but he wasn't banking on Webster pulling a storming run out of the bag to fire himself to the top spot, before Renshaw had time to respond, Club Pro driver; Walter Morris found himself beached and with a red flag it left only time for one last flying lap, and with Paul Doyle nipping into second place just before Morris crashed it left Renshaw down in third place.
Turns out there was no more he could do, and with Russ Paton failing to put his last flying lap in before the chequered flag, the Round 4 winner would be crowned as Marcus Webster in the R32 Skyline, setting a time just ?0.020 seconds ahead of Paul Doyle who in turn was only 0.015 ahead of Renshaw making it the closest Time Attack final I can remember! Top quality action from Brands and as usual the Time Attack boys and Girls never fail to disappoint in providing unpredictable action non-stop. Next time we will find ourselves a little closer to home as we visit them at Round 5, Cadwell Park.
Words – Ollie // Pictures – Rich