After a weekend of Euro road-tripping, there was no way that the Garage Awesome team could go cold turkey the weekend after, we are properly into show season now and our quest for the next dose of action was quickly satisfied, in fact we managed to find two shows on, so did what only Garage Awesome can do… and git them both!
First up, we definitely need no excuse to send Coop to a racetrack, even less of an excuse when it's Donington Park and the show has the word 'Jap' in it! As a sister show to the highly regarded Japfest held at Castle Combe, Japfest 2 was certainly set out to be one of the highlights of this year's Jap car show scene.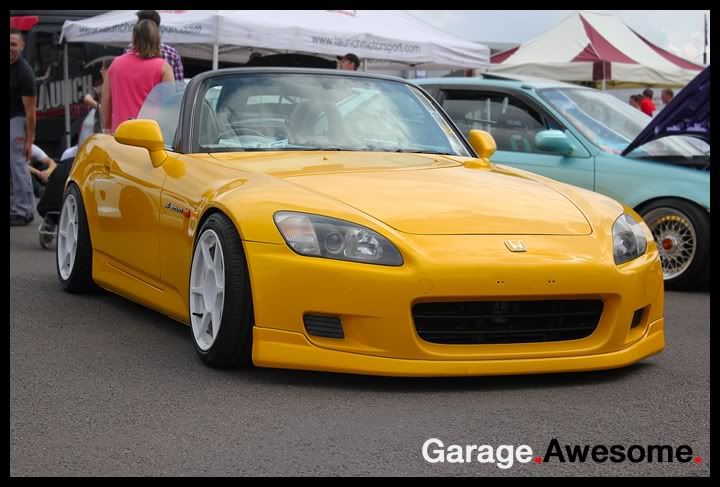 Upon arrival, the hoards of clubs had already turned out and most were busy either applying layers of wax and polish to their sumptuous paint finishes or hard at work checking fluids, stripping seats and changing wheels ready to take on the famous curves of Donington Park.
As usual it's always hard to mention all the clubs that were displaying, so we always try to give those a shout out who make the effort at shows, with well presented cars, club themes and thought out layouts it makes the show that little bit more interesting to walk around, the alternative is one big carpark! Suzuki Swift Owners caught our eye; these little hatches are fast becoming a favourite in the scene as a brilliant Jap alternative to the Corsa, Polo or Clio. Tuning Developments had some very tidy cars on display as did our local Jap club; Performance Jap Car. The one make and model owners clubs were out in force with Skyline owners, SXOC, RX8 Owners and SIDC all having nice sized club stands.
Away from the show area, Coop quickly found the main focus of the day was the action, headed by a great line up of things that you could be directly involved in including the BDC drivers running demo's and passenger rides round the Melbourne Loop section of the track and London Rally School, whose Mk2 Escorts and Subaru Imprezas had a special gravel area to give the Japfest2 crowds a passenger thrill ride away from the confines of the tarmac!
One of the best features of having a show based at a race circuit is the chance to take your own car on track for a 20 min taster session, often at the same time as mates or fellow club members. Following a briefing you really do get the chance to put your own car through its paces, test your driving skill or nerve or maybe you just want to have a steady ride round and take in the moment you're spending on one of the tracks that has the Touring Cars thundering around!
If you weren't fancying taking your own car out on track, it didn't mean you had to miss out; Redbrick Racing, who are heavily involved in Time Attack and Vtec Challenge races, not only brought along owner; Robin Duxbury's 1000bhp Evo for you to have a look round, but had their 2 ex BTCC Civics out on track throughout the day offering the very best seat in the house as a passenger!
Modified magazine giant; Fast Car had a big display with some amazing current, ex and future feature cars taking admiring glances, along with traders SFS Performance, and Hose Solutions who launched their partnership with HELL energy drink at the show. Japspeed had their display with Maxxis that's been seen at most shows this year, and I'm sure the car that needed no introduction; Baggsy's Imprezza was there, no doubt the door handle was tried a million times by you lot… yup, thought so!
If it was possible to be bored of all that action, there was always Terry Grant's stunt show to keep you occupied with his crazy stunts, but all in all, Coop reported on a good day out, ticking all the right boxes for an action based show, possibly not as big as the one at Castle Combe yet, but with this being the second year of Japfest2 I think it's safe to say it will be being planned for 2012… just wonder if it will remain at Donington or if it will continue its theme of moving around the circuits, to be honest I think the latter is a perfect idea!
Words – Ollie // Pictures – Rich