As we're constantly working to improve Garage Awesome and take it through to the next level, we are constantly struggling to spread ourselves across all the amazing events that happen around the UK, hey, we're doing alright and getting loads… but we want to strive to make sure that if it's happening in the UK modified and tuning scene, we're there! With that in mind, and with the fact I was pre-occupied detailing my car as part of the show, I'm handing over the reins to our latest recruit, and Tea Boy; Aidan to bring you coverage from the 11th Japanese Auto and Performance Show and the 9th Northern Performance Ford Rally.
We thought it was high time we kicked back, relaxed, and soaked up some Sun and headed a few miles down the road to take in a local yet popular show for Ford and Jap cars. With the scenic Thoresby Hall as a setting and being so close to us, with the Sun out it seemed the only thing to do whilst our main camera man; Coop was off covering Japfest2: The Evolution at Donington Park. On arrival the large grounds of the venue seemed pretty quiet, had everyone gone to Japfest or were we just too eager as usual…?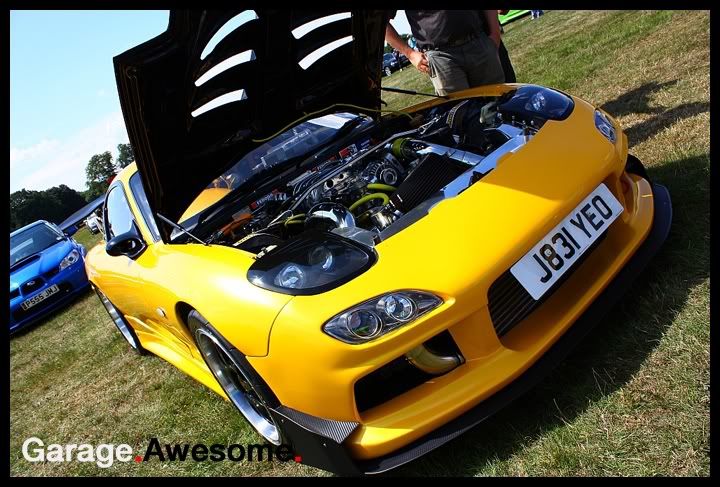 For those not familiar with Andrew Greenwood's shows, the team run events all over the UK catering for almost every kind of vehicle, the other notable one that happens at Thoresby is the Classic show where owners of all makes of classic car converge on the grounds of the hall. As far as setups go, there are no gimmicks, just great displays with a judging ring and when the announcer calls a category your car fits into, you take it down to be judged and run the risk of picking up a nice plaque for the mantelpiece, beware though… the standard is usually very high!
It didn't take long for a steady mixed stream of Jap and Ford metal to roll in, filling the grounds of the Thoresby Hall by the late morning. By early lunch time there was a mass of gleaming, polished machinery from club stands, and occasional show goers alike. the Celica owners club were out in force as usual, displaying anything from the classic muscle car like Celica, right up the newest generation model, in all colours and styles.
Now, a Ford & Jap show is something you're not likely to hear of too often, but for the second year running we found it makes for a great atmosphere and variation of cars on display, I mean, where else are you going to see a fully modified Lambo yellow, R888 wearing, hard-as-you-like FD RX7 parked only metres away from a classic Lotus Ford Cortina I'd have been happy to eat off. This also gives the owners of varying makes the chance to share their stories, ideas and appreciation for cars they normally wouldn't come across. Not to mention the banter that ensued. I lost count of how many times I heard "Jap crap" and "rotten old Ford" all in good humour though, of cause.
Some of the cars that caught our attention were the RX7 mentioned above, a Gartrac Mk3 RWD Cosworth-powered Escort, a black, carbon-clad, stanced Evo, and a Ford Ka Sport, again looking very clean and stanced on what looked like a genuine set of Escort Cosworth wheels, both great examples of making an awesome looking car by using aggressive wheel fitment and ride height. Ricky's drift-spec S13 certainly gave the judges a head scratching time with its lairy wheels and stickers, and how they managed to split what appeared to be two identical, mint Sierra Cosworths I'll never know!
A big group of Evos turned up with more than a handful of them looking like they were ready to battle it out on the track rather than be parked in a field! Last year's Best in Show winner the 'Hulk' 3000GTO was in attendance and for those appreciating more retro Jap rides, a 1st gen Civic and KP Starlets got amongst the action. With Ford owners being renowned for their attention to detail, some of the cleanest Escorts, including the mighty Cosworths, were their to be appreciated as well as some smart Mondeos, Focus's and Fiestas and even the impressive but rare Racing Puma making an appearance.
As with most shows now, it would only be right to grab the chance to bag yourself an award for your hard work, with categories including, Nissan/Datsun, Mazda, Lexus, Sierra, Escort, Capri, Best Modified, Pride of Ownership, and Car of Show to name a few. With prizes for best and runner up there was great competition with owners buffing and cleaning parts that couldn't get any better, just in case. The drive in, show it off, be judged, and drive out format worked really well and gave most the chance to see all the best cars of the show without even having to move too far from the show and shine area and much needed ice cream van!
We really think this show is one of the most relaxed, well organised shows around. Very much aimed at the whole family, events like this are the perfect example of what's so close to home and not to be missed out on, our only gripe would be some slightly dubious judging decisions, especially on the Modified Ford and Pride of Ownership awards, and a fairly expensive ticket price, apart from that we had a fantastic day, The Sun stayed out until the moment we left, well into the afternoon, and the Garage Awesome team even managed to scoop a trophy, with Ollie's Nissan claiming a runner-up spot! For more information on all the other shows Andrew Greenwood puts on, head over to http://www.classicshows.org for a full event list!
Words – Aidan & Ollie // Pictures – Ollie & Aidan