The one thing we can safely guarantee in the modified car world, is a total lack of guarantees! Take last night as a perfect example; when we heard of a small meet being arranged in the Mansfield area, for Jap cars only, arranged via Facebook, on a Monday night, the thought crossed our mind as to whether even bothering to take the cameras along at all!
Fortunately for you, we decided it would be a good idea to take them and inadvertently stumbled across a really nice meet literally minutes from my house! I decided to stretch the legs on the 200SX, whilst Coop was itching to test his new exhaust fitted to the Yaris, so we doubled the mileage and took both cars on an epic 4 mile round trip…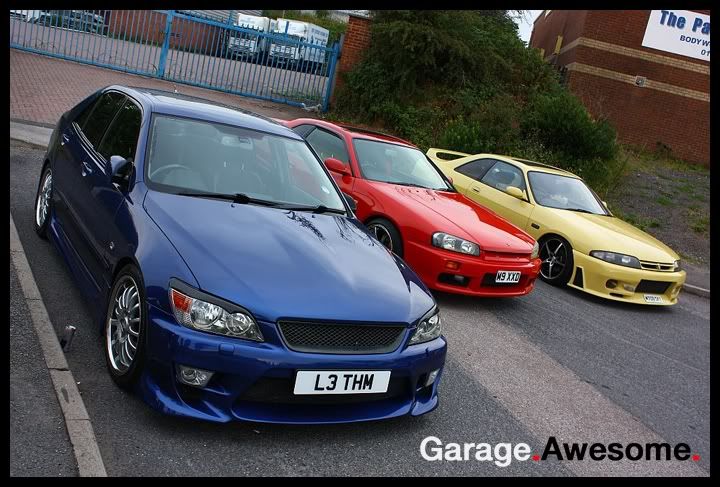 We were greeted by a couple of cars on arrival, but granted we were a tad early, keen as ever to see cars arriving and of course get a nice space for our freshly waxed rides. Slowly but surely cars started to filter in and fill up the location before it was time to force cars into a car park opposite… until that was full too!
For those not aware of Nottinghamshire's problems with meets and cruises, it's probably the most heavily sanctioned county in the UK when it comes to heavy-handed police tactics and fine dishing-outs. The county is smothered by a 'section 59' order meaning groups of 3 or more people can be moved on and noted, only for it to happen again and fines be dished out or worse still, cars taken away. It sounds extreme but in the early days in Nottingham itself, this happened regularly!
Fortunately, the organiser of this particular meet; Winno, managed to get around the problem by twisting the arm of local company; Mansfield Autoworks into having an open evening, meaning that it clearly couldn't be classed as a meet, cruise, gathering or illegal activity, in fact as he was technically open… he had about 250 customers at 9pm!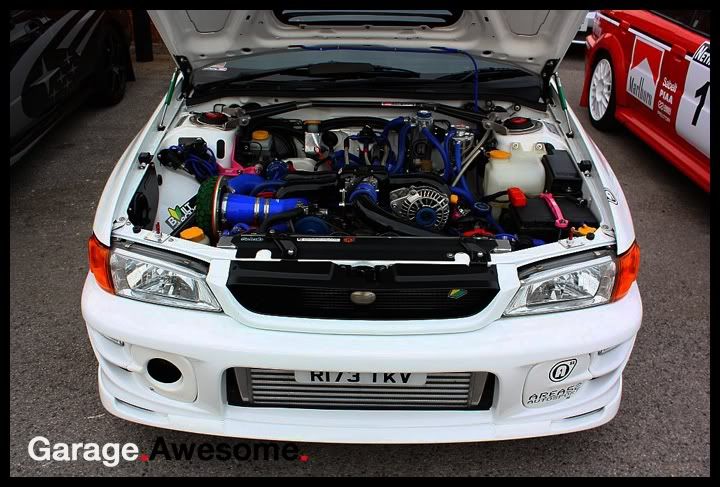 The need for a cover story wasn't needed though, the message on Facebook, where the whole meet was arranged, was strictly no dicking about, and that's a fair thing to ask, after all these guys put the reputation of their business on the line to allow this meet to even take place and bar a few over enthusiastic rear wheel drive exits from the top of the road, the mood of the night was chilled and relaxed with not even a sighting of our friends the boys in blue let alone a visit!
Onto the cars then! The usual selection of metal was on display, a group of Imprezas and Evos were some of the first to arrive, with a couple looking like they were ready for a battle in Time Attack, especially the white 2dr classic Impreza which had a stunning bay and aero set up, and an anti lag system that makes your heart stop, very cool indeed!
One of the more unusual cars to see at a Jap meet was a Ford, that's right, a Ford, this particular Ford was a Popular and owner Deejay, who has carried all the work out himself, has fitted a 400bhp SR20 lump in the car which in total weighs just over 700kgs! The Civic Type R is getting increasingly popular as the prices continue to fall, and so they should, they are a fantastic car to be picked up for under £2000 if you know where to look, at the meet we saw many examples all rocking different wheel combos and colours all with pleasing effects!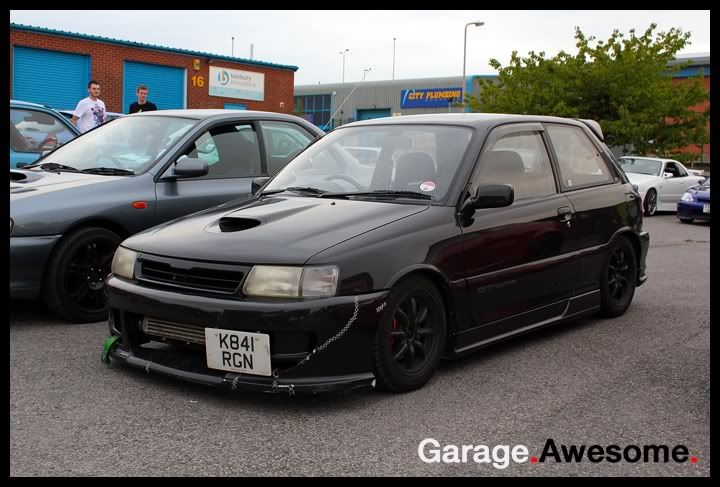 No Jap meet is complete without the Skylines, Teddy's R34 was one of the first there along with a yellowy coloured R33 and before long a couple of the GTR variants had also shown up. Going smaller saw a tidy Suzuki Swift, Toyota Yaris and Mitsubishi FTO which was packed to the rafters with ICE and lighting, a proper cruise car!
Show favourite; Buzzer brought his civic along and mixed in with the rest of the Hondas including Mark and Winno's EKs that adorned the front of the garage entrance. The Lexus IS seems to be becoming popular too with 3 versions all making an appearance. We've brought you Bobble's S13 before and that is always a crowd pleaser with its wild stickers and lairy wide-arch kit, and a bright yellow Honda S2000 parked out front making sure passers by can see what was going on!
Pretty sure this could be something that happens again in the future, it has no name at the moment when we spoke to Winno last night, not even he knew and in his words "I wasn't sure if even 5 people would show up, I'm happy with this!" and so he should be, it's not easy arranging events and meets at the best of times, trust me I have plenty of experience of this, but to do it in Nottinghamshire and secure the permission of a local business is great going and proves what can be done. One of the best Mondays we have had all year I feel!
Words – Ollie // Pictures Ollie & Rich