It's almost impossible to believe that we have already reached round 5 of the 2011 Time Attack and the driver's annual pilgrimage to Cadwell Park, it seems like only yesterday we were stood on the pit wall of Oulton park waiting to see who had been busy over the winter, and with Cadwell done and dusted, that leaves only 2 rounds this year for the drivers to make a charge!
Of course as far as the reporting goes, Garage Awesome are only half way through our coverage as we throw you into the slightly less tuned, slightly less budgeted but equally as, if not more, interesting and unpredictable world of the Club Pro class!
As far as the runners and riders for round 5 were concerned, we noted that Matt Lawson's major engine failure at Brands Hatch has kept him away, and Vauxhall Astra driver Jonny Fletcher was on Ten Of The Best duties, but we did see a few new and returning faces to the lineup meaning 17 drivers would be present to take on the demanding Cadwell circuit.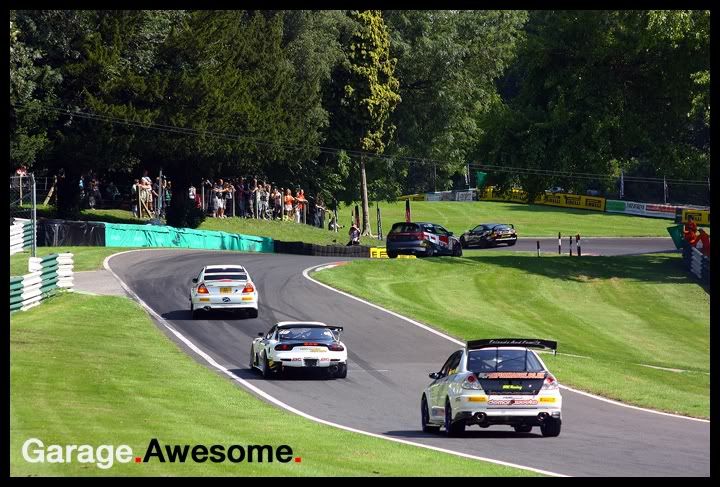 Gary Searl was at rnd1 at Oulton, but his car never left the trailer but fortunately he has managed to make his return in the amazing looking yellow Evo, another Time Attack regular who hasn't been seen this year was Ollie Clarke, not the son of infamous Roger and the Gobstopper Impreza, but the front wheel drive class contender in the bright green Fiesta. A couple of 'one hit wonders' also made their way into the pack with Mike Ward driving a Toyota Supra and judging by his graphics, the Garage Whifbitz boys have been involved with that car and Evert Thomas, who was driving the impressive looking Audi S2, I've no idea on Evert's background, but for a first outing he did a great job!
For one driver however, it seemed that round 5 was over before it even begun, Jimmy White's VX220 Turbo was seemingly unloaded ready to go, and by the time my paddock walk-around and chat to a few of the drivers was over… his car was loaded back on the trailer and readied for home! Not entirely sure of the problem, if anyone does know what happened, please get in touch.
Warm-up saw the remainder of the field head out onto the circuit, Marc Kemp, Andy Barbour, Dave Coe and Bo Neilsen all setting a quick early pace. The warm-up was short lived for Ollie Clarke though, whose Fiesta was seen smoking heavily from the front offside all the way round the circuit and was called into the pits where a monumental oil leak was found and that put pay to the rest of his day.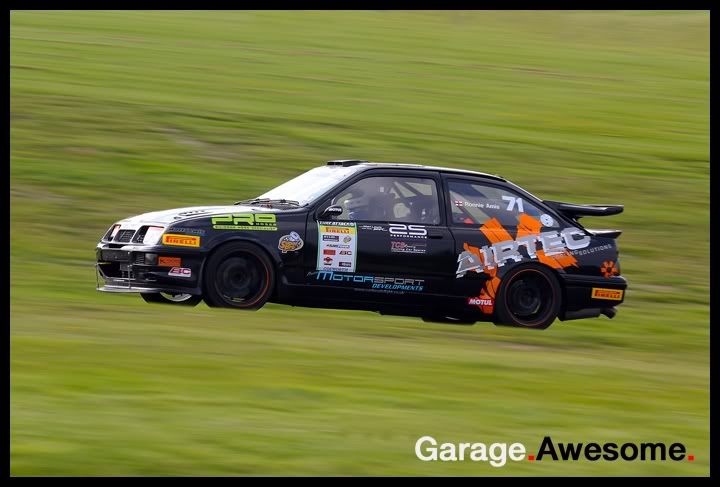 First to the top of the leaderboard however was Jon Mathers in the new-age Pro-R Subaru Impreza STI, narrowly pipping Simon Nutter, who appeared to have all his previous 4 round's problems fixed, by just 0.2 seconds. Dave Coe's Impreza retained 3rd ahead of Marc Kemp and Gary Searl who was finding his feet back amongst the action. With Jimmy White out, Ronnie Amis stormed to the top for the RWD class leaving Umar Masood and new boy, Ward, with a bit of work to do, although Masood was increasingly concerned that the RX7's transmission was not going to see the day out!
Front wheel drive is becoming one of the most fierce battles within the Time Attack, what was once a scrap between Bo Neilsen's Astra VXR and the mighty CRX of Romain Levesque had suddenly turned into a four-way battle with Gerry Atkinson's Seat Leon and Dave Thorpe's Civic Type R turning the screw on the championship contenders.
For the second time, Mathers lead the field at the end of the practice session with over a two and a half second advantage over his nearest four wheel drive class rival that was Eric Holmes with Kemp, Coe and Searl snapping at his heels! At this point we have to give a shout out to Simon Nutter, we thought Rob Cowling had bad luck but Simon's season has been possibly the worst in history; a blown engine early on at Oulton, all the way to Scotland for just a couple of laps, the same story happened at Brands Hatch and just when we thought it was all going to come together for him, it appears his newly fitted dry sump failed and has written off yet another engine. It's a real shame for such a talented driver and I fear that's the last we will see of him this season.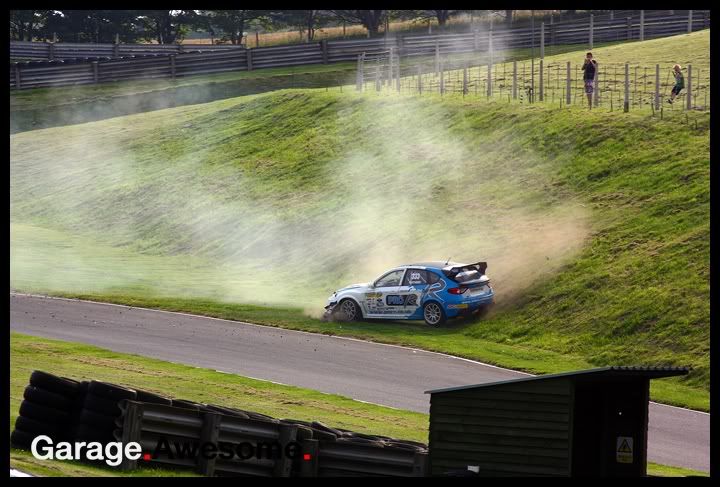 Amis kept his grip on the RWD class with Ward leap-frogging Masood, but with less than 0.2 in it, it was shaping up to be a great battle. The battle of the front wheel drives saw Thorpe drop off the pressure slightly but Atkinson and Neilsen could only be separated by 0.05 of a second. Romain Levesque however took it to another level, taking 2 seconds out of the duelling Seat and Vauxhall and posting the second fastest time on the overall leaderboard!
An eventful qualifying session got underway with a few drivers having problems, especially towards the end of the session. Gary Searl, who had been going so well, would make his third flying lap his last of the day and Marc Kemp had to be towed off the track at the end, again we're not entirely sure of the problem, and I know Marc reads this… what happened Marc?
Mathers remained dominant, and placed his Scooby on the top again, gaining championship points and the odds-on favourite for the final, Andy Barbour had picked up the pace and placed his Evo 2nd with Coe and Holmes still in the mix for those podium spots. Amis was still 3 seconds ahead of any RWD rival, and Ward remained ahead of Masood, who I'm sure had his transmission woes firmly in his mind during the day. Romain Levesque managed to top the FWD class again, placing himself 2nd overall again with neither Atkinson nor Neilsen being able to match his amazing pace with Thorpe a further second behind.
With the final missing Kemp and Searl and the day running late, I think everyone was hoping for a trouble free 20 mins, but this is Time Attack, it's the end of the day, the cars and drivers were hot, bothered and tired and it didn't take long for the action to spill onto the circuit! Spill, is probably the appropriate word as mid-way through the first corner, right in front of me, Andy Barbour's Evo decided its front diff would explode, leaving a red flag on the session whilst it was cleaned up and leaving him with a time that would make him miss the podium by just 0.2 of a second.
With the session underway again it wasn't long before, again, right in front of me, Eric Holmes' Evo quietly pulled up, he had no idea what the problem was, a chat to the Marshal revealed that all he knew was that "it just stopped working!" that said, his first flying lap was enough to keep Dave Coe in 3rd place and him on the 2nd spot. For the 4WD class winner Jon Mathers, you would think it was plain sailing, but just as I was snapping away at Holmes' stricken Evo, Mathers had a big off coming out of Mansfield leaving him with no chance of finishing the session but fortunately enough to take the 4WD win.
One thing you couldn't have predicted is that it wouldn't be enough to beat FWD hero; Romain Levesque! Not only did Romain win the FWD class, he was quickest overall in the Club Challenge class, he smashed Bo Neilsen's 2010 lap record to pieces and was fast enough to put his little CRX 8th overall in the Pro and Club Pro classes! A truly astounding car and driving talent, and he must be leaving Bo and Gerry with sleepless nights! Atkinson finished his day on the runners-up spot and Thorpe pulled out a great drive to land the 3rd place trophy.
With the RWD class almost being a forgone conclusion, with Sierra Cosworth driver; Ronnie Amis remaining, as he has done all day, on the top ahead of an impressive performance from first timer Ward and a cautious Umar Masood. There we have it, a whole load more broken cars to get ready for Anglesey in a month, a whole load of things to think about for all the drivers and most importantly a massive amount of unpredictability for us, and for you, which is the reason we all love Time Attack so much!
Words – Ollie // Pictures – Ollie & Rich