Santa Pod's Ultimate Street Car event is probably the most popular modified car event in the UK, and with a perfect mix of fast cars on the track, show cars in the paddock, traders selling their wares and night time entertainment happening over a full weekend, we believe the only way to do USC is pack your tent and get down there for the full event!
Ok, so at £55 in advance or £60 if you pay on the gate it ain't the cheapest weekender out there, but the money isn't wasted with the Santa Pod team investing wisely in their choice of action that occurs on the site for everyone to enjoy!
For some, USC has become a chance to kick back, get your club or mates together, enjoy a weekend of camping and, to put it bluntly, have a jolly good piss up, others are busy with tools in hand and a van full of spares ready to make their motor the quickest down the legendary 1/4 mile of tarmac.
Away from the cars to start with and this year all the hype and build-up was about the evening's entertainment, and there was plenty to choose from but the main talking point and the name on everyone's lips was the popular dance and D&B outfit; Chase and Status who the Pod team had managed to secure for an hour and a half DJ set on the Fuel Stage on the Friday night.
Whilst it was busy, they did run into a few problems with some members of the half-baked crowd turning the area into a war zone with half empty beer can missiles being launched into the pack, and the guys running the dodgems had their volume cranked right up meaning unless you were stood bang in front of the stage then it was like a sound clash comp! But the set was what people expected and what you would expect from a band(?) like Chase & Status.
Saturday saw grime artist Skepta take to the stage, DJ Richie Don in the Fuelers bar and throughout the day there was entertainment laid on in the form of freestyle MX demos, stunt driver; Terry Grant's shows, Podzilla – their very own monster truck, plenty of passes from the always popular FireForce jet car, games, prizes and give-aways from the Acclr8 and Fuel teams and if you were still after something wild, both the ladies and gents could get a slice of XXX action with strip shows in the main tent for both men and women!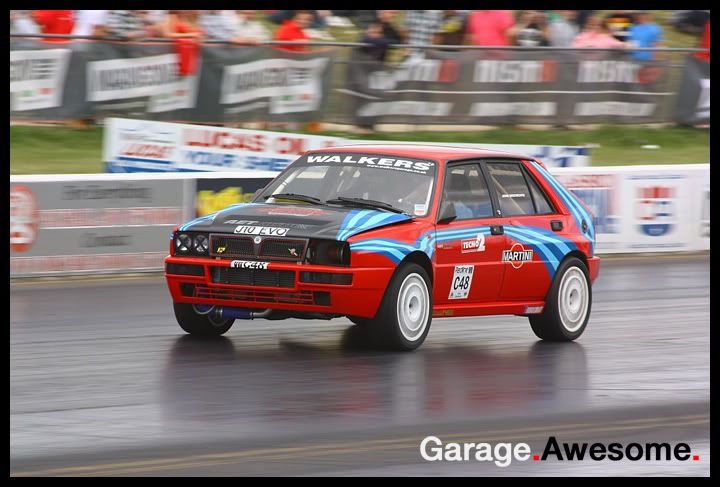 Back to the main reason (for most, anyway) to hit USC and that is to take in some of the fastest… and slowest, cars in the UK run the quarter mile track. With £20 scoring you 4 runs it didn't matter if you had a 1000bhp fire breathing Nissan Skyline or your Mum's Nissan Micra, and trust us… both were seen going up. The main cars to watch on track had to be the mighty 205 GTI's from specialists in Peugeot tuning; Pug1Off whose GTI-6 engined beast claimed the fastest class A time (12.4) and amazing 450bhp GTI-6 Turbo powered yellow 205 claimed the class B prize with a stunning 11.8 pass!
The European Sports Compact series was out in force all weekend with an equal handful of mind-blowing runs and disastrous mechanical failures including the RER Seat Ibiza breaking a drive shaft! Half down to the immaculate way the Santa Pod guys had prepared the track and half down to the sheer power these guys are ringing out of these cars, propelling them to anywhere between 9 and 12 second passes. Speaking of 9 second passes, one of the most impressive cars taking to the strip was Mark Wenn's Mk3 Ford Escort, whilst looking like a timewarp 1.3 from the outside, underneath lurks a huge power lump from an ex Time Attack Focus and a 4WD system making his pass of 9.99 enough to take the class D RWYB title.
Whilst the trophies were being dished out, it's very hard to ignore the 150+ cars that entered Sunday's Show and Shine arena, competing for a handful of prizes! Best in Show went to Scott Austin's R33 Skyline GTR, flawless paint and interior made it a worthy winner, just not sure I would have the balls to fit a GTR Skyline with an air-ride kit! Paul Whitlam retained the Best Paintwork title with his gold and green Astra Coupe. Buzzer's Civic was yet again collecting silverware, this time Judge's Choice.
Best Racecar was an odd choice, don't get me wrong, Jeff Creedy's VX220 was stunning… just not much of a race car! Sharon Holmes is no stranger to trophies and her C2 won Best ICE and Michael Ewin's Astra van picked up the Best Wheels award for some funky wood effect vinyl work! Aaron Taylor's Signum is no stranger to me, I've followed this car on a thread on the Detailing World forum, the interior is stunning and by far and away the best interior and the award reflected that – Aaron if you read this… get in touch!
Ben Koracevic's Mk6 Fiesta caught the attention of the judges for the Most Radical and no one could argue when Luke Fisher's Saxo picked up the Best Engine Bay trophy, almost fully smoothed with paintwork better than most have on the exterior and it was also out on the strip too, top work! Ram's BMW E30 convertible was packing a V8 lump and scooped the Best Retro and award finally the Show and Go award, for those who do can present a clean car and prove it's driven hard too, that man this year was Lee Robinson and his Mitsubishi Evo.
With further action in a burn-out arena and flame-out comp, USC really has it all; every inch of field was packed full of ravers, petrolheads and race fans alike, throw in mostly good weather and some smoking hot promo models (and some… not so…) and you can begin to see its appeal. With so much to do and a party atmosphere, there really is only one way to do it and that's a full-on, flat-out, hardcore weekend stay. All we hope is that the attraction of big artists and entertainment doesn't take the focus away from the ultimate street cars. Roll on the next Garage Awesome trip to Pod!
Words – Ollie // Pictures – Ollie & Chris