Often a popular and favourite type of event that always seems to generate interest within the UK is the smaller, lifestyle kind of meets, be it drift cars, Jap or Euro specific meets, owners club or just a random group organising a trip to a pub! With Garage Awesome attending a few of these over a recent period we always find them to be a nice, relaxed and chilled-out kind of affair so when fellow bloggers; LowLife arranged a meet, we sent Chris along to cover it.
The first key factor to a decent meet has to be the location and with some of the most popular smaller gatherings taking place at places like the 8 Ball Diner, Krispy Kreme Donuts and the iconic north London based; Ace Café, Lowlife followed the winning formula by choosing a venue that would satisfy the needs of those attending in the hunger dept!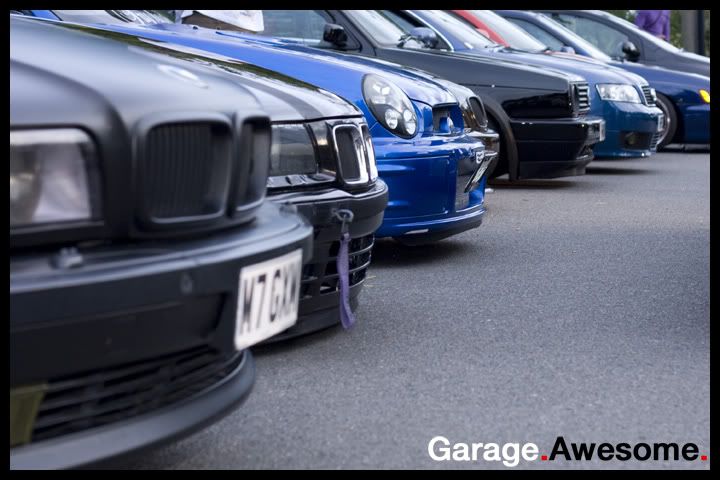 The location was Buddies USA Diner, you may not have heard of it specifically, but I can almost guarantee you have been either past it or very, very close to it as it's situated just a mere stone's throw away from the UK's flagship race circuit; Silverstone. With ample parking, a nice backdrop and a menu packed with treats from the US of A, I'm surprised a meet hasn't been held there before!
Of course dinner is one thing but the cars are what make the meet, and with LowLife it's all about how low you can go, how stanced you can be and how flush you can get your hoops! Owner Ben has spent a few years pioneering the UK stance movement, managing to get his bugeye Impreza on the cover of Fast Car magazine, alerting the masses to how good a Subaru can look without wearing the trademark rally graphics and gold wheels!
The cool thing about stance is that anyone, and I mean anyone, can get a car stanced right and it really doesn't matter what the car is! Sure the early VW and BMW models seem to be a popular choice for many but with Corsas, 106s, Fiestas, Lexus (Lexuses? Lexi?), Skylines, Puntos, and even Transit vans all being seen rocking great fitment, there is no place for car or brand snobbery when it comes to LowLife, just so as long as it's low!
Some of Chris' favourite cars at the meet included Ben's slammed FC RX7, Jame's nicely stances S15, LowLife's very own stunning BMW Z3 courtesy of Zi, complete with 'acquired' petrol pump nozzle shift knob and, whilst not exactly stanced, the 'little pug that could' 106 drew a constant crowd, helped along by a turbo'd C2 lump, kicking out around 360bhp! Apparently Ollie's Favorite; the AE86 had appeared…but Chris managed to miss snapping it before it left!
For a first meet, you can only say it was a success, I'm pretty sure there will be another but such is the stance scene, there will be a pretty laid back approach from Ben and his team as to when the next one might be, but if you're keen on getting your car low, getting your wheels right or even just enjoy looking around cars that have been hit with this style then LowLife has to be on your list of sites to keep an eye on. Hit the team up over at www.lowlifeuk.com and to coin their own slogan, see if you can 'Try Harder'.
Words – Ollie // Pictures – Chris