It's so hard to believe that this weekend saw the penultimate round of the 2011 Time Attack season, I mean, where on earth has this year gone?! Fortunately Time Attack throws a few nice stories on you at each round and we're not just talking about the on track antics, the setting for round 6 was the beautiful north Welsh coast somewhere we have never been and what a glorious setting for a race track, Anglesey certainly made our long trip well worthwhile!
The 1.55 mile circuit runs right along the coastline, winding up to the top elevation along a flat out back straight before working its way back down through an incredible off camber, blind crest, corkscrew section before charging across the start finish line right up alongside the pit wall meaning there was no major advantage to either the bigger power vehicles or those that handle like they're on rails.
As always we catch all the action from the guys and girls in the Pro and Club Pro sections. In the Pro class we saw a full field, with all the competitors in the fight for the overall title present plus it was nice to see the one hit wonder entry from Irish Time Attack driver; Martin Tracey and his Mitsubishi Evo 4.
First out the blocks was, almost predictably, championship leader; Gavin Renshaw posting the fastest time in the warm up in the NR Autosport Evo. Paul Doyle, Marcus Webster and Michael Mahoney were hot on his heels but after missing Cadwell Park, Russ Paton could only manage 1 lap before returning to the pits to asses the problem. Martin Tracey seemed to benefit from the previous day's track day posting a competitive time, although it seemed all the drivers were sighting the course taking in different lines and assessing the grip available which it turns out Tracey ran out off as he went sliding across the grass between the first and second corners!
Renshaw remained at the top of the pile for the practice session, again fending off Doyle whose Impreza seemed to be running a lot better and more aggressive than we have seen it this season, and third placed Michael Mahoney also seemed to be running his Evo faster than we have seen so far this year as he too has been plauged with niggling problems. Another driver running into issues was Marcus Webster his Skyline made its way into the pits midway through the session after suffering clutch issues. Paton's issues seemed to be fairly serious as he failed to make an appearance at all.
As it has panned out nearly all of this season, Renshaw remained dominant putting his Evo an incredible 1.5 seconds ahead of his nearest competitor which on this occasion was Duncan Graham. Webster and Paton's woes continued with neither car taking to the track at all during the qualifying session. One of the most spectacular qualifying performances was Doyle, putting his impreza third but not before spinning no less than 4 times coming out of the first an second corners showing just how hard he was pushing!
The final saw a proper battle with the lead swapping a couple of times, all cars had made it out for the final although Webster and the Midlands Performance team had solved the clutch issue in record time, a blown hose left him a bit off his usual front running pace and although Paton had got the evo out there it was apparent he was driving with a non functioning clutch! The top 2 were streaks ahead of the field with the gap from second to third place Michael Mahoney, who missed the last 5 minutes due to his splitter coming adrift of the front bumper, was 1.5 seconds. At this point I usually announce that Renshaw yet again tops the list as he has done all day, but Paul Doyle has managed to shake up the list with a fantastic drive to claim the no1 spot. It has to be one of the closest finishes ever with Doyle's 1.14.873 narrowly keeping Renshaw's 1.14.918 second lap! For all you stat fans, through the speed traps Renshaw clocked up just over 141mph on the back straight whilst Graham was the fastest over the line with a 98.4mph speed.
When it comes to the Club Pro section, the battles are equally as fierce, something that has just become more fierce as we welcome Romain Levesque, who makes the step up from Club Challenge in his mighty CRX. With all of the rest of the runners and riders present it set out to be a great battle for these vital championship points, especially with only one round left to go!
First to chalk up a table topping drive was Walter Morris who placed his Skyline third overall in the warm up session narrowly beating closest championship contender; Mark Pollard whose 6R4 seems to have sorted its fueling and nitrous issues that plauged him at Cadwell last time out. Levesque managed to pip Fiona Kindness to the third place spot by a mere 0.03 sec and a steady few laps from Neil Robertson in the SVA Evo lead us to assume he, like many, was busy working out best lines having probably never driven the track before.
It wasn't a great start for the Escorts, Dave Jackson failed to appear at all down to major problems with his sequential gearbox, in fact, Dave posted a picture on his personal facebook page late on Saturday night of the car with no box in at all! Warren Kelly was dealt a similar fate, managing only 2 laps before his Escort Cosworth ground to a hault on the exit of turn 1, again through transmission issues.
Practice saw the top 2 drivers swap over, with Pollard placing the Metro 2nd overall 0.4 ahead of Morris. Levesque continued his consistancy although he was left to make the best of a bad situation as the remainder of his first crack at the Club Pro championship would have to be run without a Supercharger as it chose the most inconvinient time to give up the ghost on him, rotten luck! Jackson was still missing from the field and was looking less likely to make it out at all, but Kelly had managed to get his Escort out there posting a respectable time for his flying lap.
With 10 qualifying points up for grabs, it was the day's continual game of leapfrog that saw Morris back on top and posting his quickest time of the day, putting an almost massive 0.7 second margin ahead of Pollard, that's how close these 2 drivers are this year! Kelly was gaining confindence and posted the 3rd fastest Club Pro time putting him 7th overall. Levesque's lack of 'charged power made him tumble down the order but remarkably found himself trailing Kindness and Robertson by just 0.2 seconds despite a couple of big sideways moments. Robertson was also pretty lucky to be able to continue as his Evo came sliding dangerously close to the wall across the grass on the turn 1 exit! Finally some good news for Jackson, as his Escort made it out on track, all be it for only a couple of laps but still put in a decent time giving him a glimmer of hope of making the all important final!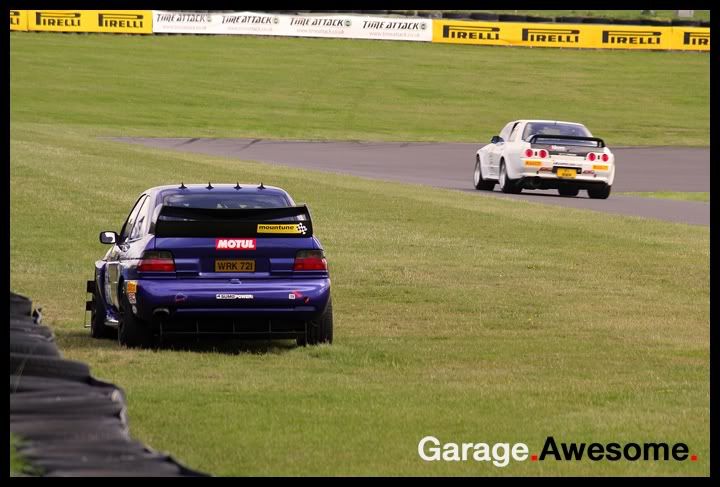 The final was always going to be a 2 horse race, Morris and Pollard had been head and shoulders above the rest all day and the final would pan out to be no different with yet another swap around seeing Pollard storm to victory and taking the maximum 100 points available with yet again less than 0.3 seconds being the winning margin, it's worth noting that the Metro was also placed third overall mixing it with the Pro drivers! It was bad news however for the Ford fans, both Jackson and Kelly's problems had reared their heads meaning neither were able to make it out for the final, dashing all hopes of either of them pushing for the championship title at Snetterton. What it did allow for was a fantastic battle between the 3 remaining drivers with Robertson, Levesque and Kindness being seperated by just a shade over 1 second, with Robertson losing out to Kindness who in turn lost the final podium place to Romain Levesque who, remember, had NO supercharger on the car, for us, it has to be the drive of the day, can't wait to see what he can do in the final round!
For the final round we are heading to Norfolk, and the re-worked Snetterton circuit where as per last year it will all be decided with either Renshaw or Webster looking to be crowned as the Pro Class champion, expect all guns blazing and either Morris or Pollard for the Club Pro win, will it be double success or double heartbreak for Midlands Performance, and who will join these drivers on the podium? There is only one way to find out and that's too book your tickets for the last weekend in september and head to Snetterton! In the meantime click on to www.timeattack.co.uk for all the latest info and of course, Garage Awesome will be bringing you as much coverage as we possibly can from the final!
Words – Ollie // Pictures – Ollie & Rich