Switching our attention towards the Club Challenge class sees just as much action as we witnessed during the Pro and Club Pro battles! Again, a few of the competitors had opted for a track day the day before and others would run the competition blind, using warm-up as their first ever sighting lap around the fabulous Coastal circuit!
Eric Holmes and Andrew Barbour were both back in action after their unscheduled exits at Cadwell Park, along with a repaired Impreza driven by Jon Mathers after his run in with a grass bank. Levesque's rise to Club Pro class left the FWD class to be fought out by Bo Neilsen, Gerry Atkinson and Dave Thorpe whilst all four of the RWD competitors were present, that included Mike Ward whose One Hit Wonder entry last round has turned into a second bite at the cherry in his Supra. We also welcome one of the more unusual cars back into time attack, with Antonio Giovinazzo's Alfa Romeo 155, who I believe we last saw in action at rnd1 back in April.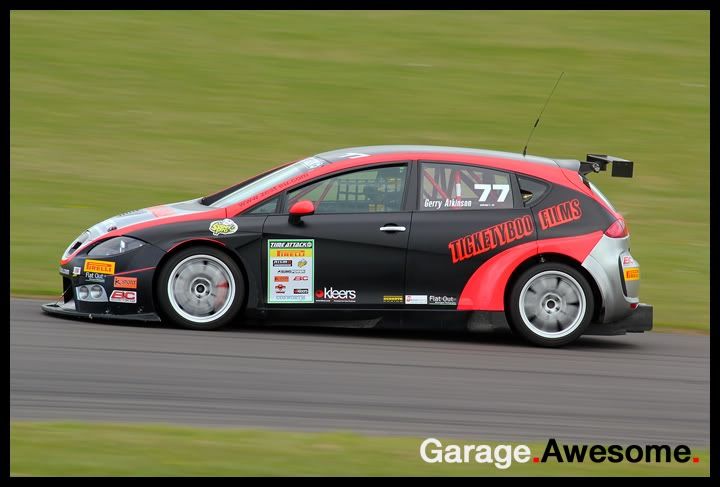 With the warm-up session underway and the drivers gathering their bearings, especially Chris Bennett whose excursion off into the grass early on showed the learning process was in full effect! With the initial 20 minute session over it placed Bo Neilsen at the top of the overall leaderboard with his FWD Astra making full use of Romain's absence. Following close behind was Jimmy White who barely turned a wheel at Cadwell and was desperately trying to make up the lost ground. The quickest man in the 4WD class could only manage third overall, but Marc Kemp had only finished the build on his Evo's spare engine late Friday/early Saturday after it blew at Cadwell, however even he didn't have it all his way, with a diff issue seeing him lifted from the track at the end of the session.
Practise also put a car in the FWD class on top, this time Gerry Atkinson's Seat Leon was fastest round the mile and half track, pursued fiercely by Jon Mathers in the Pro-R Impreza. Neilsen was third fastest, second in class and Kemp had managed to fix his gremlins to put his car fourth overall and second in 4WD class. The others had started to gain track familiarity however and the top 2 4WD drivers had the Evo trio of Andy Barbour, Eric Holmes and Gary Searl beginning to close the gap. RWD saw White continue his quest for max points ahead of Umar Masood, Ward and Ronnie Amis who seemed to have converted his Sierra into an EDC car with loads of drift action going on!
Problems at the end of the first section meant that there was no Dave Coe who had previously posted the second quickest time in his class and Chris Bennett had another moment with the grass as he lost control at the bottom of the corkscrew. This section really is a brutal bit of track with the camber and gradient making almost all the cars no matter what wheels were driven understeer wildly, most notably on Gary Searl's Evo and Dave Thorpe's Civic Type R.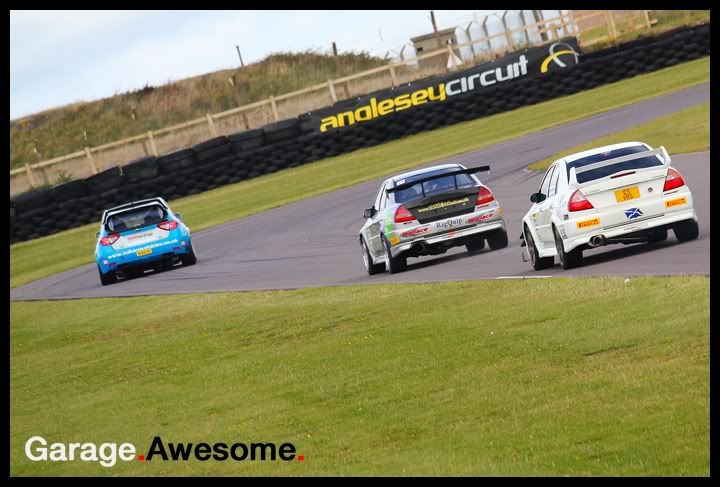 Mathers really is the one to beat this season, even more so without Levesque in the picture, but it doesn't stop the rest of the gang from trying, despite Mathers topping the leaderboard it was a mere 0.069secs that kept Marc Kemp off the top spot. Gary Searl also showed the form that we have been hoping to see with the third qualifying place. Atkinson and White continued to top the FWD an RWD class respectively, with the VX220 simply leaving the RX7, Sierra and Supra with no chance! Atkinson's nearest rival was Neilsen, who found himself way down the field and with no appearance from Thorpe it left Giovinazzo third, but the Alfa had been over 20 seconds off the pace all day, we're not sure if they are still ironing out issues or struggling with general pace but we have yet to see this car become competitive.
With the final up, we positioned ourselves right at the top section of the track allowing us to watch the cars come up towards us and down away towards the start/finish straight. The 130+mph straight that lead up to us saw a few drivers so committed that they missed braking points, with Kemp, Ward, Searl and Holmes all appearing in a cloud of locked up wheel tyre smoke, Welshman Dave Coe, who had been having issues earlier on in the day, seemed to be struggling finding gears and towards the end of the final Andy Barbour's diff went right in front of me, almost exactly as it did at Cadwell… but had he put enough in before the car gave up?
In the rear wheel drive class the final was almost a forgone conclusion; with Jimmy White taking the win as he had done all day ahead of Masood whose day almost ended in total disaster after a big spin saw everyone clenched tight as his RX7 headed helplessly for the pit wall but somehow, and I fear it was more luck than anything else, Umar kept it out of the wall by mere millimetres! Ward took third in class and Amis fourth, who was very disappointed struggling to get the Sierra to do exactly what he wanted on almost every turn.
Atkinson backed up his practise and qualifying performances with his first FWD win in the Supacopa taking the points away from Neilsen who failed to convert his early pace into maximum points. Dave Thorpe was on the final podium step, although the class final was only contested between the three of them leaving them a guaranteed podium, so if you have a fast road or track prepared FWD car, then Snetterton might be worth investing an entry in, although by all accounts Jonny Fletcher will be back and hopefully Giovinazzo will have his Alfa working properly.
Andy Barbour's broken diff cost him time at the end of the session and managed to pip Eric Holmes and Dave Coe to fourth place. Gary Searl drove really well, despite a lack of grip, to claim a podium spot in one of our favourite time attack cars, the bright yellow Evo with exposed rear suspension components really is a lovely sight round the track. A step higher was Marc Kemp who had one of the busiest weekends with one thing and another but a great final drive earned him and his fresh engine the runner up spot. Topping the 4WD class though was Jon Mathers, the Pro-R Impreza really is showing its pace and giving him more silverware and, more importantly, more championship points.
With one round to go yet again, it's down to the wire with Mathers, Barbour and Holmes in contention for the 4WD class win, unfortunately Kemp and Searl's charges have been left a little too late. Masood sits on top of the rear wheel drive gang, but both Amis and White can spoil the party and with Ward expected to be at Snetterton too, beating him could mean the difference between 1st and 3rd! The FWD is equally as tight; Nielsen's lead is only marginal over Atkinson and Thorpe so expect all three drivers to be gunning for the win in 3 weeks time. We. can't. Wait!
Words – Ollie // Pictures Ollie & Rich