Incredibly, we have already reached the end of this year's Time Attack season and as the trip for the final foray for the competitors loomed nearer, I really couldn't decide which emotion had the better of me; excitement to see who was going to pull it out of the bag for the last time in 2011, or the sadness that this was the last time I'd have the opportunity to see said cat pulled out of said bag!
Of course it was eventually excitement that won me over as we headed to the newly refurbished Snetterton circuit in the east of England, a place that had changed quite a bit since the Time Attack guys were here last, and bar a sneaky mid development visit to check out the circuit, and a spot of Formula 2 testing I managed to get to, this was the first timewould take part in front of my eyes, and of course, camera lens.
First off, a quick check to see who and what would be competing, which in the Pro and Club Pro class hasn't thrown up too many surprises, although the last round managed to provide a few. Firstly, the sad news that due to work commitments podium challenger in the club Pro Class; Fiona Kindness would miss out on the last round action and although a glimmer of hope lay within the Super Sub rule and the possibility of the legendary 'Bannana' Lateral Impreza stepping in, that glimmer turned to a bright light when I arrived and saw it in the paddock, but had all hopes were well and truly extinguished once it went past me on the trailer heading home!
Bar the missing Fiona the rest of the regulars were all present, along with a familiar face and car from the Time Attack history books, the black and lumo-orange Evo which took driver Gareth Lloyd to the Pro class championship win in 2010, it appeared he had entered as a One Hit Wonder to give the 2011 crew a run for their money, as well as allowing WTCC star; Rob Huff a chance to be yet another touring car driver to get behind the wheel of one of these machines in one of the events many live demos.
Saturday saw what has become a common feature for most of the events, in the form of a trackday, on it we would find more than a handful of drivers getting their eye in around this new layout. This, of course, can be an advantage but drivers also run the risk of damage hindering their raceday! Two drivers who know all about problems before raceday are Marcus Webster and Paul Doyle, who along with their teams had a very late Saturday night with both replacing broken gearboxes! Paul lost his trick sequential unit and went back to the Dog Box setup… all whilst the other competitors slept!
Marcus' car was also one of a few that had undergone changes ready for the Snetterton round with a brand new engine in place and rumours of the power output closing in on 4 figures, whilst Romain Levesque had fixed his supercharger that he spent the day at Anglesey without meaning his CRX had around 400bhp hitting the front wheels, with the NOS turned on! Pollard's Metro has also seen a dose of laughing gas as he tries to make up for his lack of power down the two long straights.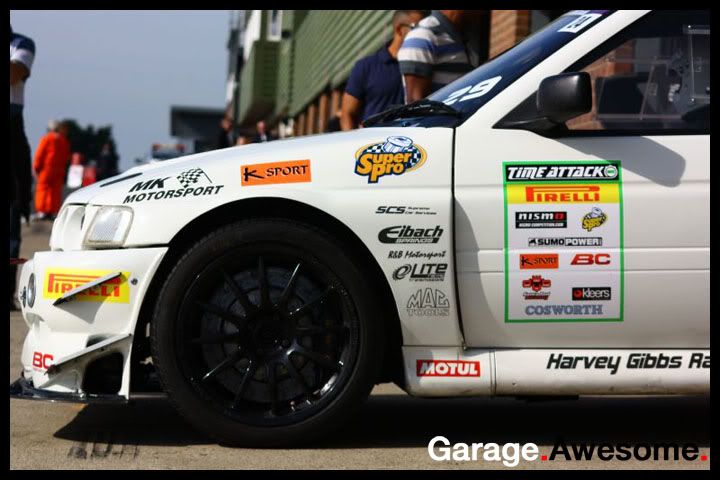 Warm-up was played very tactically by most of the drivers, the now characteristic warm weather meant grip levels were at a premium but none of the drivers were testing the upper limits, in fact some were so secretive that they managed not to fit any transponders so times for Duncan Graham and Gareth Lloyd were unavailable to the Pro teams, and Walter Morris and Neil Robertson ran without theirs keeping the rest of the Club Pro class guessing! It wasn't long before the whole field ran into a stop though, with Paul Doyle's K-Sport Impreza developing a major oil leak and left a trail from the end of the back straight right up to his pit garage meaning the field were held for nearly 15 mins whilst the track was cleaned and cleared.
Of the drivers posting times, Warren Kelly's lap before the incident remained the fastest in the session with his rivals a couple of seconds off the pace. Webster went second quickest overall and headed up the Pro class with Renshaw, Paton, Mahoney and Doyle putting in a steady but sure footed performance. Jackson was the only driver not to make the session at all, with his car running into problems meaning he had to sit it out with the team working on the stricken Escort Cosworth.
Practise was a similar affair, although all the transponders had re-appeared, not sure if this was the driver's decision or a mandatory requirement from the scrutineers, but it allowed us to view the current time, although some definite slowing down or 'sandbagging' was taking place. 2010 winner; Lloyd stamped his mark on the 2011 season coming in a full 2 seconds ahead of Webster who lead Doyle by a small margin after overcoming his oil leak fairly quickly. Championship leader; Gavin Renshaw was still playing things cool and not showing his hand too soon, running a full 6 seconds behind and only going out in the car for the minimum out lap, fast lap and in lap.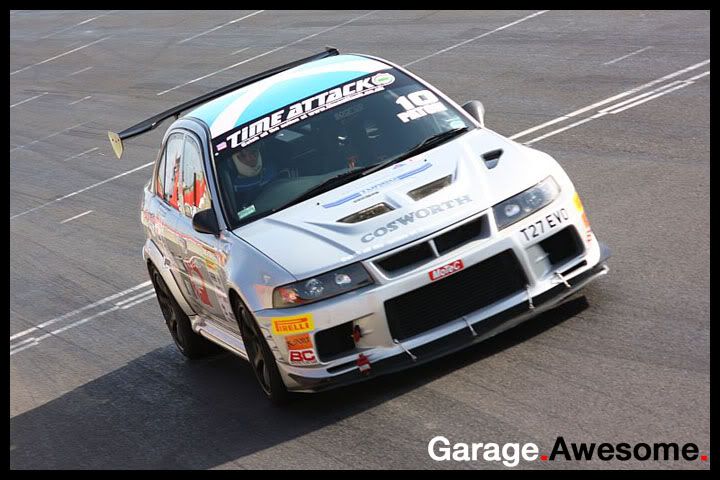 Kelly topped the Club Pro, although Levesque had brought the CRX within a second of the Escort with Morris, Robertson and Pollard trailing a further few seconds behind. Dave Jackson managed to get the Escort out there finally although the timing screens showed he was lapping over ten seconds off the front running pace, which led us to believe either his problems were more serious than we thought or he wasn't going to take any chances on a practise session!
With qualifying comes the first opportunity to score some points, and with the championship at stake most were set to take as much advantage of the few points on offer as possible. Lloyd, who as a One Hit Wonder isn't eligible for championship points, again topped the bill, surprising only by the fact that during an in between session demo, WTCC driver Rob Huff had managed to kill the Evo well enough for it to be lifted on to the recovery truck! Renshaw had suddenly found a turn of pace, dropping in second but still 1.7secs down on Lloyd. Mahoney seems to be coming good just at the wrong time, a spot of bad luck has plagued him this season but he managed to put the Evo third, and fourth saw Graham, who replaced the Lloyd Evo in the Car v Motorbike race… and won!
Kelly took his third chart topping performance of the day in the Club Pro, his Escort running faultlessly keeping him ahead of the CRX and Skyline. Pollard was trying his hardest but the Metro's legs just couldn't keep up, Marcus Webster managed a 153.2mph speed trap on the back straight, the Metro could only manage a 120.9 so no amount of time made up in the corners would close that deficit. Jackson was improving, but still found himself over a second and a half adrift.
This is what it all came down too, 15mins at Snetterton to find the 2011 Time Attack Pro and Club Pro podium positions, we have been to the North West, Scotland, Kent, Wales and Lincolnshire and it all came down to the final 15mins. Tension was high, nerves were frayed who was going to do it??? Immediately the cars charged out the pit lane, all aiming for a fast lap as soon as possible, there were little to no tactics happening here, it was a straight fight.
First blow went to Renshaw who put in a decent pace for everyone else to follow, one by one the drivers got closer with Mahoney and Graham putting in a real challenge, then Webster went oh so close to taking it, as the minutes ticked down. Renshaw, who is usually content with sitting in the pits and waiting headed out again to make sure the win was his, and with one storming lap he beat himself buy nearly a second putting 1.1 between him and Webster and winning him the round and the championship outright!
The Club Pro was equally as tense, Morris had the early advantage and with Pollard being his nearest rival in the points standings a win wasn't essential, which was good news as Warren Kelly retained his perfect day with the 4th session win, Morris looked set to take second on the day, up until literally the last flying lap of the session where the fan's favourite; Romain Levesque fired the CRX around Snetterton wedging himself between Kelly and Morris taking a well deserved and highly impressive podium finish!
Although Lloyd was out on track he failed to make a difference with the car still running a little poorly, Jackson's woes also slowed him up, and with a decent mid season performance and round wins under his belt, he can only be disappointed. Doyle's box issues cost him this weekend and pollard really needed that extra power but both secured themselves an overall championship podium position.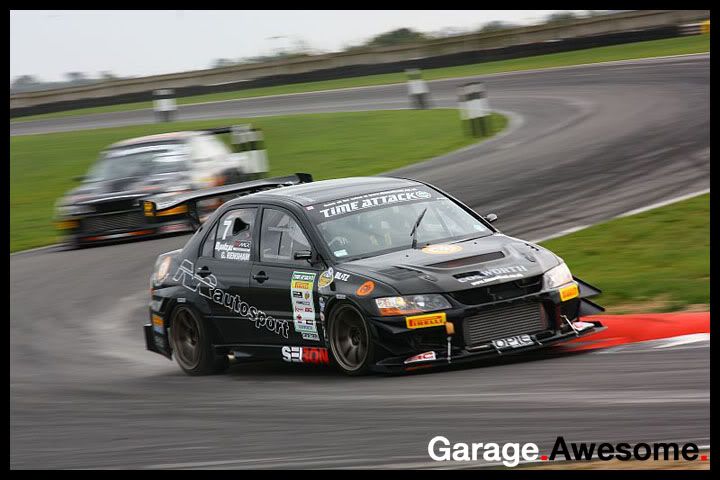 As far as that leaves us, apart from twiddling our thumbs working out what we are going to do until April 2012, although working on how we can get you even more coverage in the 2012 season is a priority, it left us with some championship winners, Gavin Renshaw and the NR Autosport Evo are crowned 2011 Time Attack Pro class winners with the Midlands Performance Skyline of Marcus Webster claiming a very close second and the K-Sport Impreza of Paul Doyle taking the third place cup.
Club Pro saw Midlands Performance pick up their second championship trophy, with the Walter Morris Skyline doing enough to take the top step, Mark Pollard's 6R4 is far from a conventional Time Attack car, but he drove it hard all year to take second and with Fiona out of the picture, the round winner Warren Kelly was on hand to claim third in the championship.
Our Pro coverage for the year is now over, what a fantastic year it's been too, despite a little uncertainty on tyres at the start it has developed into one of the best years I can remember and we would like to thank all the Pro and Club Pro teams for giving us a fantastic show and for supporting Garage Awesome, we will be back next year… and so will Rob Cowling… you lot had better watch out!
Words – Ollie // Pictures – Ollie & Rich