To say the excitement and tension built around the final round of the Pro classes Time Attack was high is an understatemant, a level of anticipation and a buzz that could only be matched, if not bettered by one thing… and that was the conclusion of the Club Class championship, with not just the 2 classes to sort out but a 4WD, FWD and RWD champion to be crowned!
We pick up the action with our runners and riders, for the final round of 2011 we welcome back Matt Lawson, who we havent seen since Brands Hatch where the engine of his silver Wallace Performance Evo 4 let go in dramatic style! Steve Aldis also hadn't been seen since Brands, and was back for the final Snetterton round thanks to the generosity of the regulars in his pub; The Sportsman Inn, whose names now adorn the side of the flame spitting 'liner.
The third driver we haven't seen in action, bar a small trip into the gravel during a session at Silverstone during Trax show, is Jonny Fletcher with the FWD Astra improving all the time and looking to capitolise on the raw power available down the two long straights. Finally, a couple of cars that haven't been involved with Time Attack at all this year, and if rumours are to be believed Richard Marshall driving the Milltek Sport/Litchfield Imports Nissan GTR will be a season competitor in 2012. The other driver was Chris Hamer, who would be putting his impressive Evo through its paces for the first time as part of Time Attack, hopefully not his last!
All eyes were on that championship title as the cars headed out for the first warm-up session, with 16 cars out on track together it would be key to get a great running place as you go for your fastest lap, and, as many of the rounds, year FWD class contender Bo Nielsen was leading the charge. The only man to sit out the first session was championship front runner in the 4WD class; Jon Mathers who we hear had a slight issue with the car, which is a rareity as his hatchback Impreza has to be one of the most reliable cars in the series.
A few steady laps were done by all, sighting out the course and of course not showing their hand too soon, all apart from Richard Marshall who made an instant impact on the Club competitors by placing his GTR over 2.5sec faster than anyone else! Andy Barbour was at the top of the 4WD cars, substantially ahead of Dave Coe and Eric Holmes. Marc Kemp only managed the one lap, not entirely sure if he had a problem but Gary Searl was also running nearly a minute down due to some bodywork issues, as it looked like his undertray had become dislodged.
Jimmy White and Ronnie Amis placed themselves 3rd & 4th overall and keeping well ahead of fellow RWD challenger; Umar Masood whose RX-7 didn't sound like it was running as well as he could have hoped in the final! Gerry Atkinson topped the FWD class but only just with 0.7 of a second seperating him, Dave Thorpe and Bo Nielsen with Fletcher just over a second back.
Marshall managed to drop half a second off his warm-up time putting him at the top of the pile again in the Practice session, but this time Dave Coe had managed to put his Impreza just over a second away from the huge power GTR. Kemp had overcome his warm up issues to drop in third overall ahead of Mathers, who of course was taking part in his first session of the day. Jimmy White continued his charge to be crowned champion with a stunning 5th overall in the lime coloured VX220 but again only leaving half a second gap ahead of Amis' Sierra Cosworth that can now be seen wearing a sweet wide arch and front splitter combo to try and cure the handling problems he had at Anglesey.
Splitting the 2 RWD cars was Andy Barbour and the man topping the FWD boys; Gerry Atkinson showing great pace in the Seat Leon Supacopa. Bo Nielsen had managed to grab 2nd overall and a missing Dave Thorpe allowed Jonny Fletcher to come in 3rd in class. Antonio Giovinazzo's Alfa still seems to have major running issues, at more than 30 seconds off the pace it's clear that whatever hampered the car at Anglesey… has either returned or had never gone away in the break.
For the third session in a row, Marshall made a break for the top but the gap was closing, front runner Andy Barbour had managed to close the gap to within 0.3 secs, which is a testiment to how hard he was pushing as the GTR was a full 15mph faster than anyone else through the sector speed traps! Gary Searl was getting stronger through the day, his yellow Evo is one of the best looking cars on the track in our opinion and was finally putting in the performances to match his podium at Anglesey. Kemp, Coe, Holmes and Mathers were all just a whisker away firing nearly all the 4WD cars ahead of the other classes.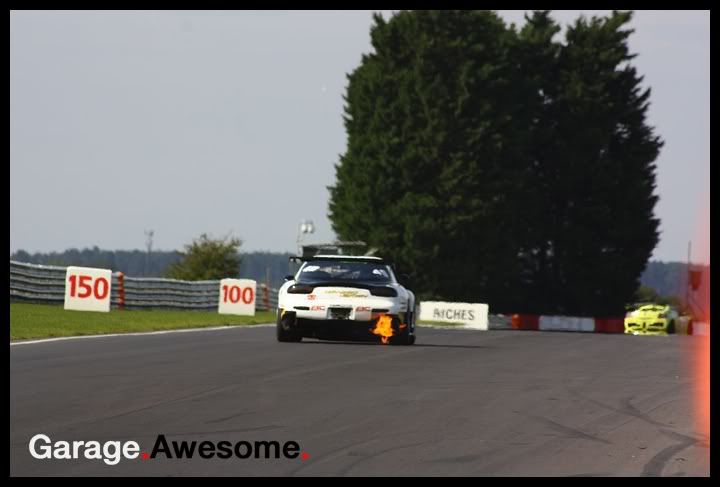 Jimmy White was dominant in the RWD class, a fantastic qualifying performance earned him some extra points and had one hand on the championship trophy leaving Ronnie well over a second behind and Umar was way adrift nursing a very sick RX7 around the track after a long hard season of battle was finally taking its toll. A 'brown pants' moment was captured by us for Steve Aldis as he lost the back of the skyline entering the start/finish straight, spitting him out infront of Marc Kemp in a cloud of dust, as I tensed for the inevitable 'Bang!' the smoke and dust cleared leaving both drivers, somehow clear of each other! Atkinson remained fastest of the front wheel drive runners, half a second ahead of Thorpe who returned after missing the practise session with Nielsen in third, things wern't so good for Fletcher however as his Astra darted back into the pits after developing a misfire under boost.
As we moved onto the final it really did seem like the best was saved 'til last, as the cars assembled in the pits a few nervous faces peeked out from under the helmets, here we go, yet another 15mins of action that would determine just how sucessful everyone's season has been. It certainly wasn't a fairy-tale end for all however, Jonny Fletcher's misfire hadn't gone away, Steve Aldis had major turbo problems and Eric Holmes lost all chance of a podium with a problem with his Evo. Another Evo that was desperately trying to be revived in the pits was Marc Kemp's, he and his team were franticly trying to sort a blown boost hose that occurred leaving the pits in time for him to have a chance of doing one, just one, fast lap, but it wasn't to be and sadly; Marc missed out all together.
With those drivers in trouble, it opened the way for everyone else to gun it, predictably Marshall lead for most of the session, but out of the blue, Andy Barbour went out and produced the fastest time of the day in the Club class and doing enough to give him a podium place, the top one! Marshall got within 0.6 secs later on in the session, enough for 2nd overall and the 3rd place both overall and in the 4WD category was Searl, but even he was 2 seconds behind the flying Andy Barbour! Both Mathers and Coe pushed hard and came very close, but would 4th be enough for Mathers to take the overall title in his maiden season?
Matt Lawson and Chris Hamer had been a little off the pace, but had a great tussle going on between themselves, with their best performances coming in the final and eventually being split by 0.101secs!, it would be great to see these 2 guys back next year. Atkinson dominated the front wheel drive runners, his Seat was simply unstoppable, running well over a second ahead of the 2nd placed Bo Nielsen who pipped Thorpe by 0.2secs. The RWD class was nail biting with both Amis and White posting their fastest laps on the same lap, meaning this was one of the closest classes of the day, but it was Amis who took the round win, pinching the glory off White by 0.115secs, but I couldn't do the maths fast enough to work out who had managed to take the title! Umar's poorly RX limped round, managing 4 laps before it was pronounced dead, with his engine well and truly blown, he promises us that it will be bigger, better and faster for next year though!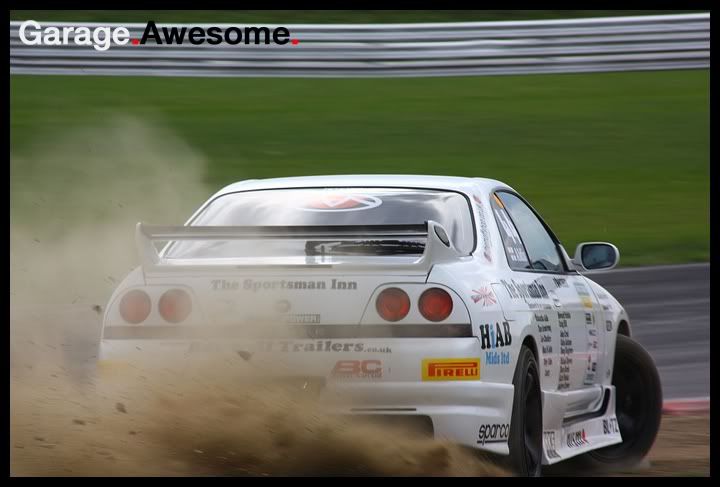 The front wheel drive class championship was the first to be calculated, and despite Gerry rapidly stacking up the points the honours were claimed by Bo, who racked up 636 points. Gerry was rewarded with 2nd and Thorpe went home with 3rd. Amis' round win wasnt quite enough for championship victory, and the rear wheel drive title went to Welshman; Jimmy White in his Vauxhall VX200, with Umar's disspointing day being cheered with some silverware for 3rd place. Now, as far as close championships go, you just wont get any closer than this… ever! The 4WD class saw Barbour win the day's event and Mathers back in 4th, which left a gap of just 1 point!
The one point gap was enough, however, for Pro-R driver; Jon Mathers to be crowned Champion, meaning that Barbour finished up a well earned 2nd place and it goes to show just how close these cars are with no specific rules on engine building or chassis tuning and after 7 rounds at the best circuits in the UK, Dave Coe came 0.2secs away from making the top 2 drivers a dead heat! Fortunately the car trouble for Eric Holmes didn't cost him a podium place altogether, as he scooped up the 3rd place spot with plenty of space to spare ahead of Coe, Kemp and Searl.
What a fantastic year, what a fantastic championship, and what a fantastic bunch of people involved in this series. The Garage Awesome team would like to take this opportunity to thank everyone involved, all the Time Attack teams, the drivers, the crews, the circuit staff and marshalls and the official series sponsors; Cosworth, Super Pro, K-Sport, Santa Pod, BC, Pirelli, Nismo, Sumo Power and Kleers. We cannot wait for next year, we will be there with bells on and are looking to massively improve our coverage of this fantastic event, but for us, Time Attack 2011, is done!