Finally, it has begun! It seems like an eternity since we packed up our things and left Snetterton back in September last year as the Champions of 2011 were crowned, and pretty much every day since then we have been gearing ourselves up and getting way too over-excited in anticipation of the opening of the 2012 UK Time Attack series and as ever, we will bring you season long coverage of the entire championship!
Now, it's fair to say our excitement levels have increased 10 fold since the new tyre regulations were announced, this appears to have spurred on some drivers to get heavily involved and even come back to the championship in cars that have been developed away from Time Attack. We have been (pretty much) stalking the drivers and teams on social network sites, we have been at trackdays and testdays and even been down to visit some cars being prepared, all in anticipation for this very day!
Cadwell Park was the Round 1 host, a familiar track for some, a stranger to others and for all, mixed in with the rather changeable weather conditions a real challenge to find out just how well they have improved their cars and in some cases, if they worked at all! As always we shall start with the Pro classes round up followed by all the action from the Club classes shortly after.
With warm up being held on a damp but drying track, it immediately threw the teams into a tyre-based quandary, with some opting for the slicks & road-legal track tyres, whilst others fearing the grip levels and lack of run-off at the Cadwell Park circuit, opted for wets. Our focus on the Pro class actually covers 4 separate classes, with the Club Pro & Pro classes being allowed on the road legal MSA List 1b tyre and the Pro 2WD & Pro Extreme this year being allowed full slick tyres!
Club Pro saw many of last year's crowd returning, with Russ Paton, Walter Morris, Dave Jackson, Warren Kelly, Neil Robertson & Rob Cowling all fighting out the 2012 Championship, but would this year be joined by Romain Levesque, who will compete the entire 2012 season as a Club Pro car. Jamie Wilson, who we last saw in 2010 in the Exige & Scott Robson, who again was oh so close to claiming the title in 2010, was out in his RA Motorsport Developments Impreza. Andrew Barbour also joins the list after making the step up from a successful season in Club class last year, his NR Autosports prepared Evo has undergone some surgery too since we last saw it.
David Leigh was the only competitor to run in the Pro 2WD class at Cadwell, so his Leon just had to survive the day for the win, and Duncan Graham's last minute push to get the car ready wasn't enough, leaving last year's champions Gavin Renshaw and the Metro 6R4 of Mark Pollard to scrap it out in the Pro class. Finally, Pro Extreme would see the highly anticipated return of Gobstopper, and Driver; Olly Clark along with previous champion; Gareth Lloyd & the Midland Performance run Skyline of Marcus Webster, which sadly would also not make it in time for Cadwell.
Lloyd dominated warm up, with his time over 5 seconds quicker than anyone else, showing just how quick these cars are on slick tyres, and the reason he has been chosen to drive the Redbrick Racing Evo in the World Time Attack series! Gavin Renshaw was the closest man and topped the Pro class charts whilst the SVA Imports Evo, which in previous years has never seemed to deliver its potential, climbed to the lead of the Club Pro class, 3 seconds ahead of Jamie Wilson's Lotus. Olly Clark, Scott Robson, Romain Levesque & Rob Cowling were all out, but failing or faulty transponders meant that they had no recorded times to compare.
Practice was a whole different ball game, with a 'Wet Race' declared, the entire field would need to be using their wet option tyres and would see the lap times grow by 4/5 seconds a lap. Although many of these cars are 4WD, getting 500, 600, 800+ bhp onto wet tarmac is no easy task, and the job in hand was amplified for the FWD CRX of Romain Levesque, whilst Pro 2WD competitor; David Leigh sat this one out along with Olly Clark and the Gobstopper Impreza. Gavin Renshaw finished the session at the top of the time sheets, with Lloyd & Pollard behind. Andy Barbour took his first session win as a Club Pro competitor, his Evo really is looking quick and looks like loads of work has gone into the car over the off season. Scott Robson was quick but seemed to be having teething issues, Neil Robertson & Alan Freeland were hot on their heels too, with Freeland showing off his new striking Purple and Yellow livery. Morris was another struggling with issues, Russ Paton blew a silicone hose after only 3 laps and Rob Cowling, who hasn't managed to run his freshly built Evo in yet, failed to put a quick lap in and of course you can ready the Ameon Racing story, later in the week!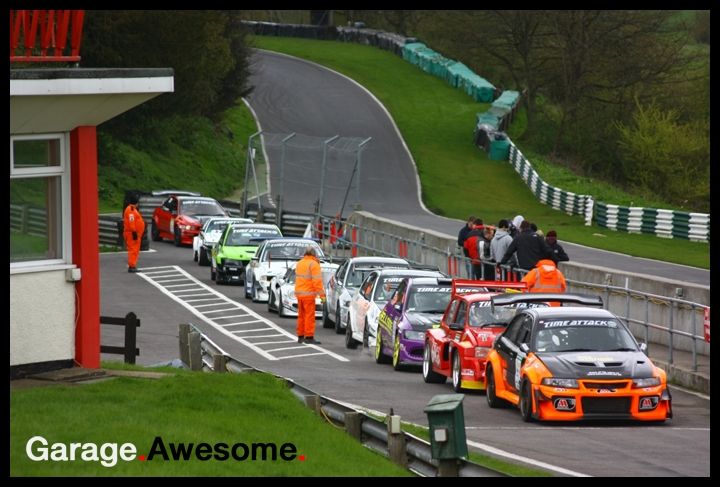 After a dinner break, the track had managed to dry out and the first points of the year would be contested over the 20min qualifying session. Jamie Wilson lead early on before the see-saw of the lead went between Lloyd & Renshaw who, despite actually running in different classes, were locked in a gripping battle for the overall fastest time. Lloyd came out the eventual victor with a stonking 1.28.701 sec lap, beating Renshaw by a fraction over 1 second, although it wasn't until his 9th and final lap when he could pull the magic time out of the bag. Jamie Wilson grabbed the first Club Pro points putting the Exige at the top, but both Alan Freeland and Andy Barbour were within touching distance of his time. Levesque's day worsened with an off causing damage to the front & rear of his giant-killing CRX. Scott Robson also struggled, the car had lost its earlier pace and had developed some kind of misfire at the top end of his rev range, a problem shared by Rob Cowling. Olly Clark's day ended early but not after he had put on an epic display, flying over the Mountain on almost every lap.
The way the day had panned out meant the final was always going to lead to some drama, with Walter Morris, who if memory serves us correct is using teammate Marcus Webst & Olly Clark out it left 12 cars to contest the session, however only 11 appeared into the pitlane from the holding area with the missing car being NR Autosports' Evo and driver; Renshaw. despite frantic efforts from the team, they were unable to start the car in the holding area and consequently missed out on the session, and the chance of first round points. The remaining 11 gave a great show, there was always going to be one man to post the fastest time and with both Renshaw & Clark out, Gareth Lloyd ran an almost exhibition style display posting the fastest time of the day, some 7 seconds ahead of anyone else on the track and with it took the Pro Extreme win in the Bob Moore racing Evo.
The Club Pro was a fierce battle, in the end the first 3 were separated by under 1 second, but it was Jamie Wilson who marked his Time Attack return with a fantastic victory, Andy Barbour flew the flag for NR Autosports with a great second place and Alan Freeland, who despite leading early on, took the final podium spot in his flying Evo. Romain Levesque and his CRX must give the 4WD boys sleepless nights, he managed to not only get his FWD car into 5th in the Club Pro, just 2 seconds off Wilson's best time, but he did it with most of his aero kit and downforce in the pitlane after his previous off rendered them useless! What a car!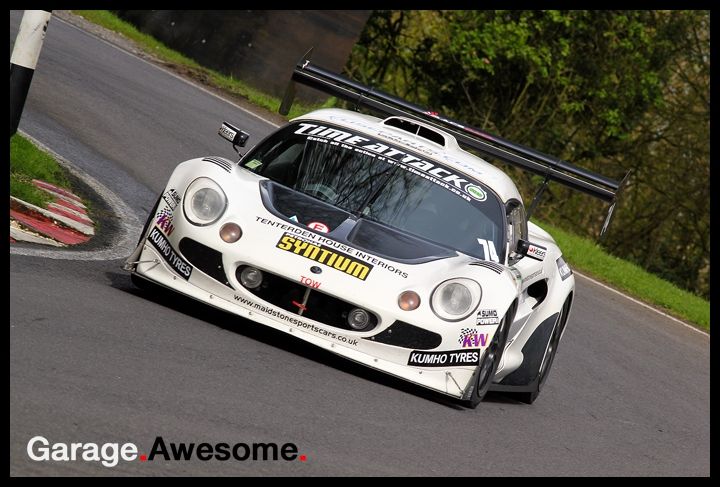 Bit of a frustrating day for Rob Cowling who, despite getting quicker, was struggling with a lack of testing in the Ameon Evo. Robson's misfire had not gone away, costing him top-end speed and Russ Paton had to pull in just past the pits after his Evo ran into problems. David Leigh managed to steer his Leon round to win the Pro 2WD class by default, just hoping that we get to see some of the cars that were sidelined today in 4 week's time at Knockhill. I'm sure Duncan Graham, Marcus Webster & Warren Kelly are already at work on their vehicles in preparation!
Time Attack is back, and back with a bang. OK, so the weather was pants in places but the action was hot! Having Gobstopper out was a great treat for the crowds, Lloyd showed just how fast a Time Attack car can be, but for us, just the sights and sounds of what we saw today will replay over in my head right up until they're refreshed when we hit Knockhill for Round 2. We love Time Attack, and are so pleased that it's back for the year and that we are involved in the whole operation! Huge well done to all the drivers and if you have missed it… you only have 6 chances left to see these guys in action this year! Log on to www.timeattack.co.uk for more info and results.
Words – Ollie // Pictures – Ollie & Rich