Whilst the Pro classes really draw the crowds to see the very best of the best of the tuning world do battle, there is always that feeling of it being 'out of reach', don't get me wrong, these tuners and teams put hours of work & development, skill & knowledge into all of their cars and are at the peak of awesome, but for your average trackday hero or modified enthusiast it's just a little out of most people's budget to begin to compete with these guys, heck these guys can lap a circuit faster than the BTCC drivers!
Fortunately for all of us, we have the Club Challenge class which provides us with a real spectacle of varying cars, varying budgets and to a certain degree, varying driving talents. There is no other motorsport in the world where you can pit your trackday prepared hot hatch against a fire breathing 4WD monster, against a classic rear wheel drive Ford against… well, you get the idea!
Club Challenge class really allows anyone to experience what it's like, in fact if all goes to plan at the end of the year, we will be able to tell you exactly what it's like as I'm hoping to give the Snetterton 200 round a go myself so I can offer you first hand experience of what it's like to line up in the pitlane at a Time Attack event! This year sees many familiar faces from years gone by and many changes to their cars but it also adds an element of the unknown as a selection of new drivers, cars and One Hit Wonder entries take to the track and cut their teeth in this amazing series for the first time, so "how did it all pan out?" I hear you cry.
Positioning myself perched over the pit wall in the center of the track for the first session was a brilliant place to be, not only did I get to watch the field of 28 cars come down the hill and take their place ahead of the green flag dropping for the first time in 2012, but I could also see Coop positioned at the top for the action as the cars exited the slippery hairpin & Barn sections of the track therefore knowing we had the action covered, but I also had the company of Gerry Atkinson's crew who were truly amazed by the TSL mobile timing screen I had open on my generic fruit-based mobile telephone device, and allowed them to put away the old school stopwatch they had to time Gerry's eventful laps!
This is what I love about Time Attack, sure BTCC is epic and you get to meet the drivers in a crowded pitlane, but for modified enthusiasts, Time Attack is the holy grail and it's so easy to feel part of it, to be talking to the drivers and teams to find out about their cars that they all are more than willing to talk about or drinking in the bar the night before with Ronnie Amis & Jonny Fletcher (*cough, for example..). Back to the action and the green flag dropped on warmup with 28 cars streaming out all ready to test their Winter's hard work, Time Attack 2012 was go.
Club Challenge class has a few classes within the club bracket, this year we have Club Rear Wheel Drive, Club Front Wheel Drive, Club 4 Wheel Drive and a Club Naturally Aspirated class. The first man to appear back into view on the first lap was Ben Shimmin in the Pro R Impreza who eventually went on to be the quickest man in the session in a car that's undergone some changes but is still recognisable as 'Shirley'; the car that Jon Mathers took to victory in the championship last year, Jon coincidentally was driving the Course car inbetween sessions. Rich O'Dwyer had some of the big guns really worried as he managed to get what we believe to be the quickest 1/4 mile mini in the country round the track just under a second behind Shimmin and topping his FWD class although being a OHW entry he would be unable to earn championship points even if his form continued.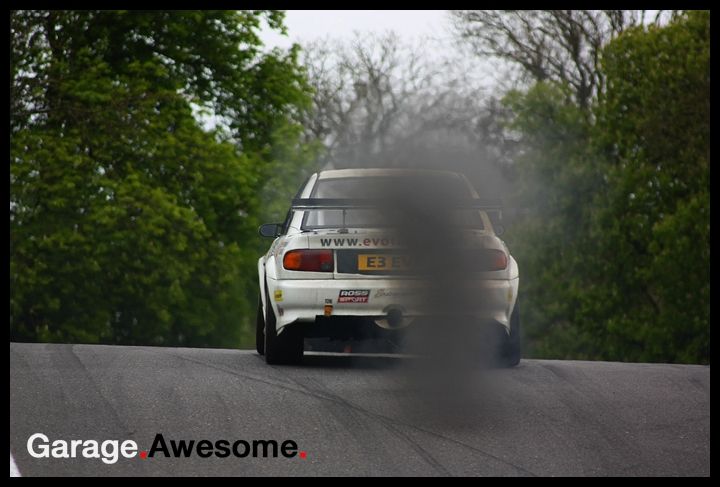 We went to see Richard Marshall test at a Trackday a few weeks ago, again at Cadwell, which resulted in a small off, but the car was repaired and was brutally fast on the straights, but the GTR is a big car to be throwing around a narrow, damp Cadwell. Defense of Bo Nielsen's title was off to a good start, 4th overall on the time sheet in the Astra and topping his FWD class for championship points was just what he needed after the car has had more work breathed into it at his main sponser; Forge Motorsport. Tony Hume was another OHW who instantly impressed, his Evo looked fairly tame in bodywork but was flying over the mountain and put in some impressive laps, hope we see more of him this year! Neil Holden was another driver who tested at Cadwell a few weeks before and his TDI North FN2 Civic Type R lead the N/A class from Steve Fitzpatrick's BMW E46 M3 and Robert Burkinshaw's Honda Integra DC5.
Robert Dixon, who we spotted mastering the art of sticker placement in the wind and rain earlier, took an early lead in the rear wheel drive class, but with him being a OHW also, it was the constantly on fire RX7 of Umar Masood that ranked the highest. The rest of the field were just gauging the tricky conditions, although others found other problems would hamper their efforts with James Procter in a stunning and rare Civic FD2 Type R returning to the pitlane early on, but minus his front bumper, Marc Kemp's Evo looks almost unrecognisable from last year's car despite it being the same one but a broken pin on his gearbox linkage saw him having to sit it out, and Jonny Fletcher managed to put some laps in in the Astra, but transponder problems left him with no idea of his initial pace.
Switching my vantage point to the Hall bends for the practice session, which was declared wet, meaning that all drivers would be out on their chosen list 1A tyre, meaning the times wouldn't be comparable to the earlier session, but would show who had the grip in the pouring rain! The heavy rain brought patches of standing water and it was no surprise that the 4 fastest times were all set by the 4WD entrants, with Shimmin making it 2 out of 2 at his first ever event and really impressing us with the way he handled the Impreza. Dave Coe returns for another year and hands down wins the Garage Awesome award for the largest rear spoiler, the extra downforce pushed him to second followed by another great drive from Hume and a stunning performance for a driver who you usually find in the Dutch series; Evert Thomas and his amazing Audi S2.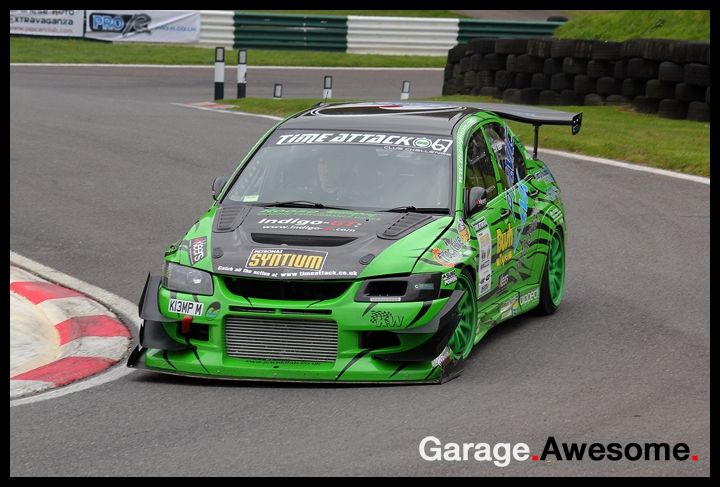 Despite the wet, Mike Cantelo took charge of the RWD class, with a few VX220s rumoured to be involved this year, he showed the pace that took Jimmy White, who has to sit this year out due to the much more difficult task of first time parenthood, to the 2011 title. Holden again not only topped the N/A class but stayed within the top 7 cars overall, much helped by his comparable lack of power and extra grip I'm sure, interestingly enough he was quicker than the leading turbo FWD cars which in this session wasn't Bo, but Simon Smail, who put his Sitech Focus RS, which unless we're mistaken, is sporting the front end of a 2010 Team AoN Focus BTCC car, on the top of the list. The rest of the rear wheel drive cars struggled for grip with Ronnie Amis & Umar Massod coming past me with the back end hanging out on a few occasions. Simon Deaton was very tip-toey in his lovely Porsche 964, Simon, who last time we saw him involved in Time Attack was driving a bright pink Evo, which is now a bright purple Evo driven by Alan Freeland in the Club Pro class! Gordon Wright seemed to be having a few issues in his Skyline and Alistair Bryne was demonstrating just why the 200SX S14 chassis is such a popular drift car, but also demonstrated superb car control, often gathering it all up after getting back on the power a tad early in the wet put him into a slide.
It wasn't just the rear drive boys struggling, 4WD front runner managed to get his 800bhp Evo totally sideways coming through the Hall bends after his N/S/R tyre just brushed the slippery kerb, but managed to get away before anyone came round the bend to find him stranded in the middle of the track! The same fate befell Gerry Atkinson, his FWD Seat Leon Supacopa managed to do almost the exact same thing and after a short grass detour, he was back on his way to the 10th quickest time of the session. Marc Kemp had yet another nightmare with coilpack issues meaning he didn't manage a hot lap at all!
Then the real nitty-gritty started, as both Coop and I stood towards the top of the mountain knowing that the drying track would really make these cars fly, it was the best place to be! Lee Bullen in his Impreza is a solid OHW driver, he has had decent results in the past, would be great to see him involved in a full championship battle and was quick out the blocks, his car leaping over the mountain and the first to put in a hot lap, but would leave the session after completing that one. Steve Peel hasn't been mentioned yet but spent the first 2 sessions there or there abouts, his Evo three seems to set up really stiff, another one not only leaping up the mountain but often on three wheels on the corners leading up to it, and with huge smoke clouds as he would catch the limiter, the power he needed was obviously there and put him second overall and gained the first set of championship points. Chris Hamer proved he lost no confidence in the Team Eurospec Evo from his earlier spin getting within 0.2secs of Peel and making it 2 new-to-the-championship drivers, in the top 3. The first time Ben Shimmin was off the top spot, but only just he was less than a second behind the leader and lined up 4th.
Bullen slipped down to 6th with Marshall still struggling to tackle the twisties in the GTR, but was way quicker than anyone through the 2 speed traps making his way to 5th with Coe 7th and Hume 8th overall. 9th saw the fastest FWD car, with Gerry Atkinson putting in a quick lap before totally missing the first corner braking point and for the second time of the day found his Leon skidding across the grass right up to the top of the hill between Coppice & Mansfield. With O'Dwyer a good 4 secs off Gerry's pace it left a good battle between him, the second Mini of David Ward, Jonny Fletcher and Smail's Focus, regular competitor; Antonio Giovinazzo remained running in his Alfa, but still is lacking the initial pace to keep up with the class leaders. Less than a second separated the top three rear drive cars, Cantelo holding on in the Vauxhall from Deaton and Amis with Masood and Bryne starting to make use of the drying track and moving up the board. Both Fitzpatrick and Burkinshaw managed to topple Holden's grip on the N/A class, with the latter coming out on top before managing to put his Integra backwards into the barriers causing some minor damage and a series of yellow flags.
But topping the entire qualifying session was Marc Kemp, who had no idea until he spotted me as he was returning to the paddock and take a peek at my TSL timing screen only to then immediately point out that he was still on wets, so had managed to run fastest, on the wrong tyres! What a fantastic drive from Marc!
The final loomed, the field down to 23 cars, meaning more space available out on track to set that oh-so-special winning time, and the man to take full advantage was Steve Peel, who quite simply outclassed the field in his Evo putting in a time not only 1.5 secs faster than anyone else, but a time that would have seen him 4th in all the pro categories, Kemp managed to recover what could have been an awful day but when it mattered and on the right tyres made second place whilst it was only right that Ben Shimmin would taste the podium champagne on his first outing after such an impressive performance. Marshall, Bullen, Coe, Thomas and Hume made up the top 8 with just over 4.5 seconds separating all of them and with Coe only managing 1 final lap, 6th was a fantastic result. One man who didn't have a great final was Hamer, after the Eurospec team were busy repairing Romain's car, Chris' head gasket chose a bad time to give up, costing him a real chance to be fighting for the lead finishing a lowly 16th, but there is plenty more to come from both car and driver and with giant killing Romain as a teammate, you can't discount a genuine championship chance. Gerry Atkinson continued his impeccable record of managing to visit the grass at least once a session, this time at the mountain, but his time was fast enough to gain full FWD championship points ahead of Ward and a first-ever Time Attack podium for Jonny Fletcher in the Astra GSI.
The closest of the classes was without doubt the RWD, half a second was all that separated the top 4 drivers wit Deaton narrowly missing out on the podium. Umar Masood took the third step behind a triumphant Cantelo and class winner Ronnie Amis in the Sierra Cosworth in a lap record breaking time too, must be the JD & Coke Ronnie! Despite a poorly looking Integra, Rob Burkinshaw hung on for the win in the N/A class but as far as the championship goes, Burkinshaw's OHW status meant it was 'Fitz' in the Beemer that claimed the top spot with Holden's Civic second.
So, there we have it, some amazing action at the wet Lincolnshire venue, our next stop in just under 5 weeks is the gorgeous Knockhill, where we are expecting all the action and then some as we are likely to see some extra cars in the form of both OHWs and full season entrants whose cars just couldn't make it to Cadwell. So it's a fond farewell to round 1 as we look ahead to round 2 and all the shenanigans that goes with this incredible motorsport, which of course we will be covering every inch of.
Words – Ollie // Pictures – Ollie/Rich