Club Challenge class at Knockhill was always going to be tight, using our past few years knowledge and understanding it's clear to see that the shortest track on the calendar would produce the closest results because of a few simple factors, the bigger power cars haven't got as many places to use it, the cars that corner like they are on rails haven't got as many corners to demonstrate it and let's be honest, as we are talking about Time Attack, every driver has less chance of managing at least 1 lap without making a royal balls up!
One thing it does attract is a large entry list, which poses the extra problem of traffic out on the circuit, so picking your time and place to overtake and run a hotlap are all key decisions the driver has too be making from behind the wheel. We already know that Steve Peel, Gordon Wright & Gerry Atkinson have moved up, so who did that leave us with and without at the Scottish round? Well to start with we lost all the One Hit Wonders from Cadwell bar one; Tony Hume in his Evo, the 200SX of Alistair Bryne and Evo of Chris Hamer both missed the round and Marc Kemp has turned his championship battle into a few OHW rounds after committing to some other events with his Evo including the Superlap Battle in Zandvoort.
Oddly enough we spotted James Morgan's 300ZX arrive, then within an hour leave again on the back of the trailer it arrived on without going near the circuit, not entirely sure what happened, we can only assume the car just didn't want to play ball! We did welcome some new and retuning faces to Time Attack, again in the OHW form, Matty Lawson ran some rounds last year in his Wallace Performance Evo, hardcore fans will recall his engine blowing up in spectacular style at Brands Hatch last year! Brian Rennie brought his Evo 6 along and was also part of the ever-growing Wallace Performace crew and not to be out done by the Evos, the RA Motorsport Developments' Scoobies of Gareth Houston & Jason Ogg would be tackling their local track. Barry Kay's Evo 8 was another of the entrants and it's nice to see something that you would probably consider 'underpowered' when speaking about Time Attack, a Renault Clio 172, driven by Liam Robertson.
As with the Pro guys, the warm up session provided no real insight into the day, Pro-R Subaru driver; Ben Shimmin made the best of the conditions although Jason Ogg, Matty Lawson & Tony Hume were all within a second. Mike Cantello set the early RWD class pace, with the RX7 of Umar Masood showing some epic wet drifting skills as he tried to hang on to the back end! The FWD boys had the same grip problems, putting big power through the front wheels has never been easy but Simon Smail did the best job in the Focus RS, although it was a very short stint for Sheffield driver; Jonny Fletcher whose windscreen steamed up leaving zero visibility after just one or two laps. Simon Deaton & Ronnie Amis were both out on track, but failing transponders gave us no clue to their initial pace in the wet.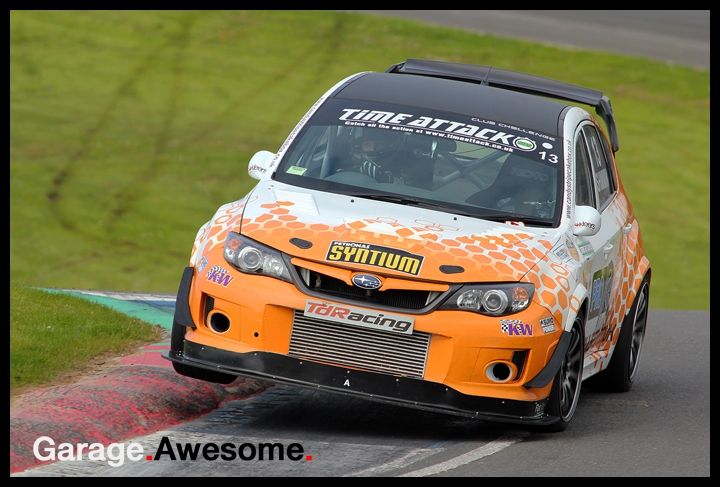 Practice came around and with a working transponder fitted to the Airtec sponsored Sierra Cosworth, Ronnie showed us what we had missed earlier on, breaking the minute barrier to put his car not only top of his class, but top of the entire Club Challenge field! Ronnie seems to really be getting to grips with the Sierra this year, both performances so far this season have impressed us and to top the Club time sheet in a RWD car is seldom seen! Hume was the other man to break a minute in this session, it's a real shame that Tony isn't a full season entrant, again, both performances have impressed and his car, minus the stickers, would look like your average Evo, there is no monster aero or clever cooling on the car leaving us to surmise that Tony really knows how to pedal it!
Richard Marshall, who missed the warm up session, managed to put his GTR 4th overall, and for those not in the know, it's worth noting that Richard blew his gearbox up competing at the Hockenheimring a few weekends ago and for the Knockhill round was using the gearbox from Robin Duxbury's road GTR that they swapped over a week ago! Ogg, Rennie & Lawson showed their local talent was a valuable tool, placing all of them inside the top 10, baring in mind there were 22 cars out over the 1.2 mile circuit, finding that space for a real fast lap on a damp track really was hard work!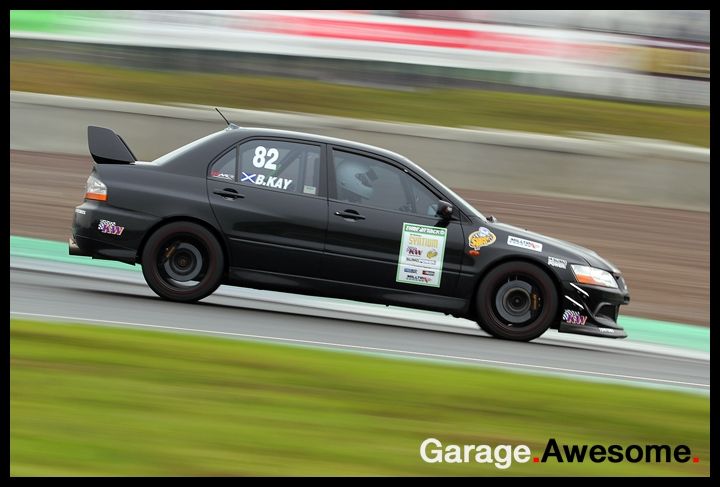 After a decent lunch break, the cars would return to qualify and score the first points of the day, with tyre choice now trackday slicks it would be our first opportunity to see who has got what! Initially it was an Impreza & Evo battle, Jason Ogg, Dave Coe and Matty Lawson all swapping the lead within 2 or 3 laps. The extra speed caught more than a few out on their breaking points coming into the final hairpin with huge lock-ups from Lawson, Coe, Masood, and Cantello. The exit wasn't much friendlier to the drivers either with Cantello, Amis, Masood, Deaton and the M3 of Steve Fitzpatrick all sliding the back of their cars whilst trying to point it in the general direction of the start/finish straight. Bo Nielsen managed to turn the Astra into the top FWD car and being the only one to dip under the minute mark, Smail got within half a second and there was literally nothing to split between Mini driver; David Ward and the Astra of Jonny Fletcher who both posted a 1.02.106 lap.
The 4 N/A class cars also appeared to have an epic battle on their hands, although Fitzpatrick had a nice buffer at the top of the class, Neil Holden and James Proctor in their varying styles of Honda Civic had the small but mighty Clio right behind! There were also 4 drivers fighting out the RWD class, Simon Deaton held off Masood by just under 4 tenths whereas the gap between Amis and Cantello was a mere 2 tenths, with Ronnie taking the advantage and first points of the day. Richard Marshall threw his GTR well over a second faster than anyone else, proving the drying track was helping the GTR put its mighty power down and just 6 hundredths of a second split Shimmin and Lawson. Ben Shimmin has taken to Time Attack like a duck to water, it seems he really knows where to put the Impreza and watching him closely exiting the hairpin with a precision slide, he is the type of driver that I can only compare to Olly Clark and certainly ain't afraid to keep it loose and of course that means fast!
Final time, perfect track conditions, almost a full house (only Brian Rennie missing), this was set up to be a cracking final! A great performance from the OHW drivers, Hume placed his Evo what would have been 6th in class, 8th overall and Ogg and the flame-spitting Lawson 5th & 6th overall. The outstanding drive of the day had to be Amis, finally giving himself the biggest gap from Cantello and a day's maximum points, not only that but the Sierra finished the session 4th overall! Simon Deaton's Porsche is certainly an unusual Time Attack car, but it's lovely to watch and listen to, just seems so smooth but fast enough to earn the final podium spot. Bo Nielsen had another spot of bad luck with his car failing to boost correctly, costing him any chance of winning, instead that opportunity was grabbed by early FWD pace setter; Simon Smail and the Sitech Ford Focus. Ward's Mini was the runner-up, whilst Jonny Fletcher held off Antonio Giovinazzo despite finding himself with only 2nd and 4th gears!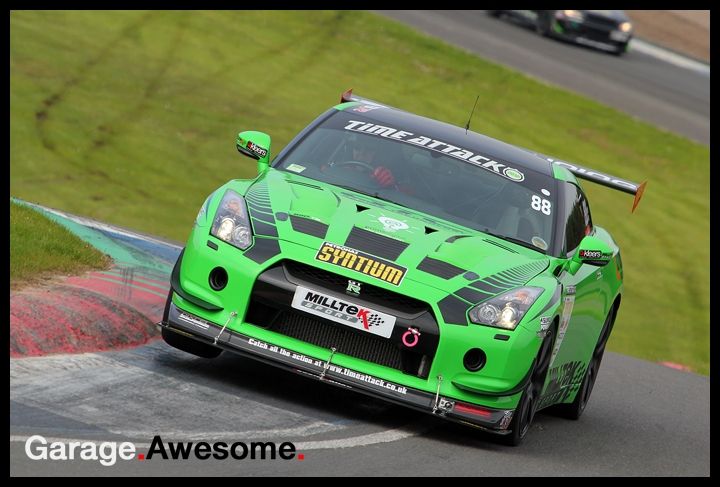 The N/A order stayed the same as qualifying, Fitzpatrick going unchallenged really, with Holden and Procter filling the remaining podium spots. With Kemp out, Hamer missing and Gary Searl's car still not complete, the challenge for the 4WD class was left to 3 men, and those 3 put on a fantastic display of what Time Attack is all about! Occupying the top 3 overall spaces and split by just 1.5 seconds, Dave Coe took his first podium of the year with the refreshed Impreza, Shimmin continued his podium streak, this time going one better and gaining the second spot and more silverware for series sponsors; Pro-R but Richard Marshall was the man to take the win but in extremely difficult conditions. On the 2 straights (start/finish and the approach to the final chicane) Richard's speed trap figures were 14mph & 10mph up over Shimmin, meaning he must have had a real struggle with the big GTR round the tight bends at the top of the fabulous Knockhill track!
What a cracking weekend to have spent at Time Attack, the weather held nice for us all, hundreds enjoyed the round and for many preparation has already begun ahead of the trip to Brands Hatch. Can Ronnie Amis stay at the top? Will the FWD boys get a dry session and show us what they can do? And with 2 strikes next to their name, will we see Shimmin & Marshall leave the Club Class? Join us in 4 weeks time to find out. It's not racing, it's Time Attack.
Words – Ollie // Pictures – Ollie/Rich